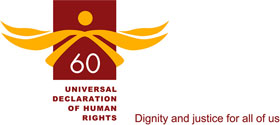 On Human Rights Day the United Nations Secretary-General will launch a very special campaign and people everywhere are invited to take part.
Every 10 December the world remembers the extraordinary accomplishment on that day in 1948 when all the nations came together in Paris to sign the Universal Declaration of Human Rights. The power and relevance of the recognition enshrined in the Declaration – that all human beings have fundamental rights and freedoms – is undiminished today.
The campaign is designed to help people everywhere to learn more about their human rights throughout 2008 and to better understand the relevance of the Universal Declaration in their lives today.
On Monday the Secretary-General and the High Commissioner for Human Rights will issue special messages inviting people everywhere to create their own public information campaigns.
A special campaign logo, fact sheets, posters and more have been developed to give communities and organisations the inspiration and tools to get their campaigns started.
Celebrate Human Rights Day and the 60th anniversary of the UDHR. Stand up with people all over the world who want to make human rights a reality for everyone.

The UDHR declaration sets down the basic principles at the very heart of the human rights movement. It has enabled remarkable progress in human rights, inspiring international human rights standards, laws and institutions that have improved the lives of many around the world.
For each month of the anniversary year, Amnesty International has highlighted one aspect of its campaigning work.