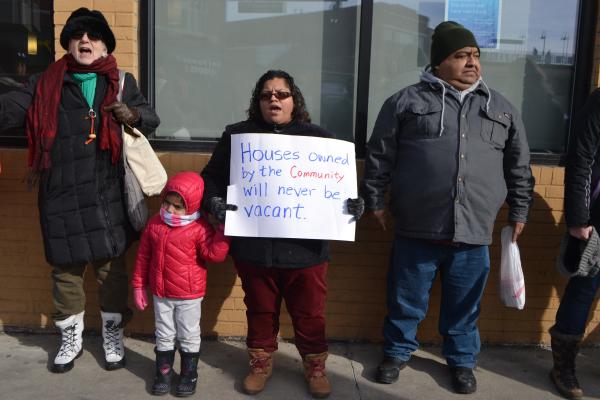 About 30 Chicago housing activists picketed outside a
Citibank branch Wednesday morning as part of their ongoing fight to save a Rogers Park "community
house."
Organizers toted signs reading,
"I support the house on Ridge" and "Housing is a human
right," while tenants of the home, located at 7245 N. Ridge Ave., were
inside the branch attempting to meet with a Citibank mortgage representative to
discuss their offer to purchase the foreclosed property.
Jorge Ortiz, an organizer with
Communities United Against Foreclosure and Eviction, lives in the home with his
family, including his mother and uncle. Ortiz and his family moved into the
Rogers Park home in 2012 after the previous property owner, who was facing
foreclosure, abandoned it. Organizers said Citibank later purchased the home at
a foreclosure auction.
The current tenants of the bank-owned
home, with the help of Communities United Against Foreclosure and Eviction,
turned the property into a "community house" that hosts clothing
drives, movie screenings, health fairs and other neighborhood events. People
who have had difficulties finding affordable housing also stay there,
organizers said. The tenants at the property are currently facing
eviction.
Ortiz's mother, Maria
Dolores-Calvillo, is seeking to purchase the home for $200,000 in
order to avoid eviction and maintain the property as a community space.
Ortiz said Citibank branch representatives directed the family to speak
with officials at the corporate level.
"We went in and explained the
situation … That we're trying to save our community house. That we have a
pre-approval, and we want to speak to somebody at Citibank that's going to
approve, or at least look at, our offer," Ortiz told reporters outside the
Citibank branch at 2295 N. Milwaukee Ave.
Before Dolores-Calvillo decided she would attempt to
buy the home, the tenants and their supporters were trying to get the bank
to consider donating the property or selling it at a low cost to a
Chicago-based community land trust. The non-profit Casas del Pueblo Community
Land Trust, which was created by the Albany Park neighborhood group Centro
Autonomo, was willing to receive the title of the home and turn it into
permanent affordable housing, while also keeping it open as a neighborhood
hub. Antonio Gutierrez, housing coordinator at Centro Autonomo, said the
group has not had any luck going that route.
Ortiz said the bank has, however,
offered to sell the home at market value at about $350,000.
Organizers and tenants said they will continue their
attempts to negotiate with the bank.
"It's a lot of money,"
Dolores-Calvillo said of her $200,000 offer. "The bank needs to understand
that it's a lot of money, and it can do a lot of things with $200,000 … I'm
only asking for a house to keep many families in there."
It is urgent, Gutierrez
said, that the negotiation process move forward, as the
tenants "might get evicted today or tomorrow."
"Citibank needs to understand
the importance of keeping families in (their) home," Dolores-Calvillo
stressed. "I'm not asking for a free house. I'm asking (for them) to
give me options to buy that house for the community."
* To watch the video, click here.