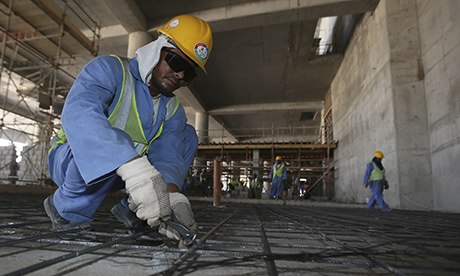 Migrant
labourers on a construction site in Doha, Qatar.
Photograph: Karim
Jaafar/AFP/Getty Images
British
experts are to help build a new generation of "humane" homes for more
than 50,000 migrant construction workers in Qatar in the wake of a international
outrage at dire living
conditions for labourers ahead of the 2022 World Cup.
Workers'
villages featuring health centres, shops, recreational areas and even
psychologists' consulting rooms will be built in co-operation with the
government of Qatar, according to Quantex Qatar, a building consultancy set up
by two British quantity surveyors.
It
is understood the plan has been accelerated after criticism
from Amnesty International and the International Trade
Union Confederation (ITUC) after the Guardian exposed inhumane living
conditions leading to the deaths of workers.
Some
existing workers' accommodation requires a dozen people to sleep in one room
with insanitary washing and cooking conditions and little cooling equipment.
The new housing – to be built in collaboration with US company Global Building
Solutions, which has acquired around 1m square metres of land – will be made up
of three-bedroom homes with a limit of four to a room. Each bed will be
screened off and each home will have a living room, bathroom and dedicated
covered outdoor space.
Construction
companies that lease them for workers will be given an insurance-backed
guarantee that the facilities will meet both Qatar Foundation and international
inspection standards.
"We
have formed a joint venture to deliver modern, clean and humane workers'
villages for the market in Qatar, " said Michael Murphy, chief executive of
GBS. "We will build and operate the facilities at our cost, and will
simply rent them out on a contract basis."
"It
is designed with one thing in mind – to improve the lives of the migrant
workers who are fundamental to the success of Qatar 2022," Simon Trafford
of Quantex Qatar told Building magazine.
It
is estimated that at least another 500,000 migrant labourers will be needed in
the eight years running up to the World Cup to build in excess of £100bn worth
of infrastructure and facilities. So far Nepal and India have provided the
largest number of migrant workers, who make up over 90% of the Gulf state's
population. The ITUC predicted as many as 4,000 migrant workers could die in
Qatar during that period unless conditions are improved.
In
a report released this week, based on two recent investigations in Qatar and
scores of interviews, Amnesty found workers living in squalid, overcrowded
accommodation exposed to sewage and sometimes without running water. Amnesty's
general secretary, Salil Shetty, said some workers were being "ruthlessly
exploited, deprived of their pay and left struggling to survive".
The
new housing will be semi-prefabricated in neighbouring Saudi Arabia and the
first units are expected to become available from April next year with
thousands of beds a month made available.
* To see the original source,
click here.