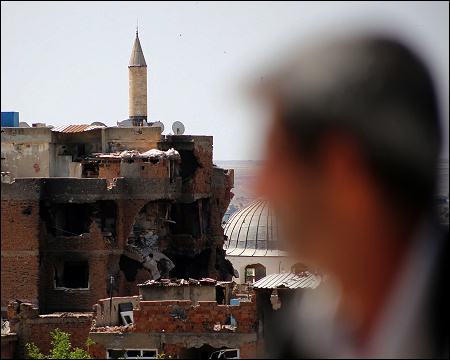 DIYARBAKIR-AMED, Turkey's Kurdish region,— Residents of
Turkey's historic Sur district in the Kurdish province of Diyarbakir were
forced to evacuate their homes by Monday as the violence-wracked region
undergoes restoration.
The district in southeastern
province has been hit by clashes between the Turkish army and outlawed Kurdish
militants for over two years.
Turkish authorities say they
will restore the district, a UNESCO world heritage site with its ancient
fortified walls, historic mosques, churches and synagogues.
Clashes between the Kurdistan Workers'
Party (PKK) fighters and the Turkish armed forces erupted after the collapse of
a two-and-a-half-year ceasefire in 2015.
Two more neighbourhoods in
Sur were being emptied on Monday but families told AFP they did not want to
leave the homes they have lived in for many years.
Those who own their own homes
have been given money but finding property elsewhere is difficult, and for
those who are not homeowners, the situation is worse.
Sahin Darkan, who had lived
in Sur for 11 years, told AFP that he did not have to pay rent while he lived
in the district.
"Now we need to evacuate. We
will have to pay a rent. They (authorities) placed pressure on us to leave. I
don't know what will happen to us," Darkan, who works odd jobs, said.
"Actually we do not want to
leave but we must leave," Baris Umut, a member of one of Sur's oldest families,
said.
"Where should we go, leaving
this beautiful place, this paradise?"
Turkish Prime Minister Binali
Yildirim said last September 1.9 billion lira ($535.5 million, 491 million
euros) would be invested in the district with billions more poured into the
southeast region for development after the violence.
But others including Zeliha
Ceylan said they could not leave without getting enough money to buy a house
elsewhere.
"They gave me a small amount.
I have nobody. I cannot buy a house or pay rent. The state is telling me to
move, but where will I go?"
Since July 2015,
Turkey initiated a controversial military campaign against the PKK in the country's
southeastern Kurdish region after Ankara ended a two-year ceasefire
agreement. Since the beginning of the campaign, Ankara has imposed several
round-the-clock curfews, preventing Kurdish civilians from fleeing regions
where the military operations are being conducted.
Activists have accused the
Turkish security forces of causing huge destruction to urban centres and
killing Kurdish civilians.
Observers saidthe
crackdown has taken a heavy toll on the Kurdish civilian population and accuse
Turkey of using collective punishment against the minority.Activists have
accused the security forces of causing huge destruction to urban centres and
killing Kurdish civilians.
In March 2017, the Turkish
security forces accused by UN of committing serious abuses during
operations against Kurdish militants in the nation's southeast.
In April 2017, Human Rights
Watch (HRW) called on Turkish President Recep Tayyip
Erdogan and the government to end unfair trials and the crackdown on Kurdish
political opposition.
The PKK took up arms in 1984
against the Turkish state, which still denies the constitutional existence of
Kurds,to push for greater autonomy for the Kurdish minority who make
up around 22.5 million of the country's 79-million
population.Nearly 40,000 people have been killed in the resulting
conflict since then.
A large Kurdish community in
Turkey and worldwide openly sympathise with PKK rebels and Abdullah Ocalan, who
founded the PKK group in 1974, and has a high symbolic value for most Kurds in
Turkey and worldwide according to observers.