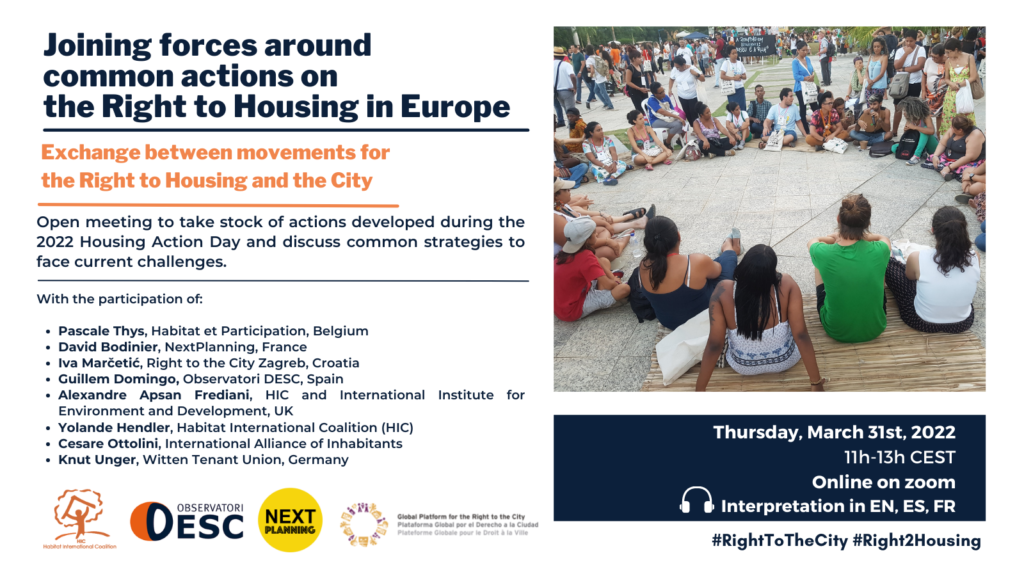 On March 26th and 27th, housing movements around Europe will be taking the streets for a third time during the 2022 Housing Action Day in coordinated actions to demand the effective protection and implementation of the right to adequate housing and the city. As in other countries of the world, the population of European cities has been facing acute challenges in terms of access to housing. Increasing commodification and transnational financialization of housing has had a direct impact in the lives of inhabitants, with high eviction rates, increasing rent prices, gentrification, touristification and an overall lack of participation in decision-making related to housing policies and the overall democratic management of cities and territories.
On March 31st, Habitat International Coalition, Observatori DESC, Next Planning and the Global Platform for the Right to the City will organize an open discussion with housing and Right to the City activists from Europe to take stock on the different protests and actions carried out during the 2022 Housing Action Day and to exchange on concrete strategies being developed by different organizations and community groups not only to denounce the current situation but to put forward resistances and concrete alternatives to the models in place.
The event will seek to promote the sharing of what are the core issues being faced by communities in different european cities and point to concrete initiatives and proposals being carried and articulated, with the goal of supporting exchange and coordination between different movements. Moreover, the discussion will seek to complement efforts being carried out in other regions through the Global Platform for the Right to the City and Habitat International Coalition to have a regional position on what are they key demands and strategies being carried out by movements in different regions ahead the official review of the 5 years of the approval of the UN New Urban Agenda in April. The event will take place virtually on Thursday March 31st, from 11h to 13h CEST. Interpretation will be provided in English, French and Spanish. Click here to register.
The event will count with the participation of:
Pascale Thys, Habitat et Participation, Belgium
David Bodinier, NextPlanning, France
Iva Marčetić, Right to the City Zagreb, Croatia
Guillem Domingo, Observatori DESC, Spain
Alexandre Apsan Frediani, HIC and International Institute for Environment and Development, UK
Yolande Hendler, Habitat International Coalition (HIC)
Cesare Ottolini, International Alliance of Inhabitants
Knut Unger, Witten Tenant Union, Germany