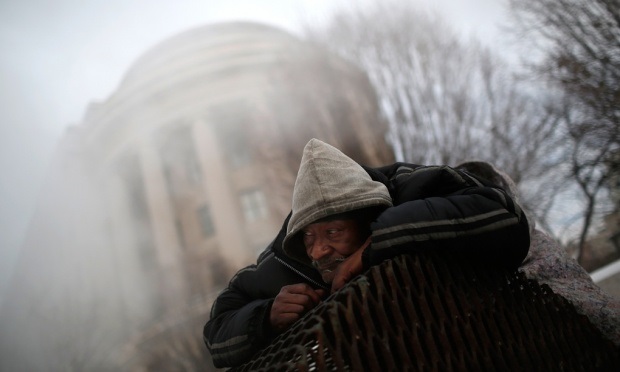 Donnie Prince, who is homeless,
tries to stay warm on top of a steam grate outside 
the Federal Trade Commission
in Washington DC. Photograph: Win McNamee/Getty Images
For
many, cold winter winds may mean donning warm winter garb or snuggling up by a
fire on a comfortable sofa. For those who are homeless or precariously housed
it's often a time to prepare for the ultimate survival test – staying alive.
But
staying alive in the cold isn't easy. A number of places in the United States
battered by the harsh winter have reported hypothermia related deaths of people
living in abandoned buildings and on the streets. Last month in Memphis,
Tennessee a homeless
man froze to death just
hours after he was turned away from a local shelter, and a homeless
man in Greenport, New York met
a similar fate trying to survive in an uninsulated garage he'd converted into a
temporary home . This January in Toronto, Canada's largest city, two
homeless men died on
cold winter nights. Both men had sought refuge in the only shelter they could
find: a bus stop and an abandoned truck.
Cold
weather related deaths of those who are homeless or poorly housed are by no
means a uniquely North American experience. In fact, it appears to be a truly
global phenomenon of significant proportions.
In
February 2012, during a six week deep-freeze, Eastern Europe saw staggering
numbers of deaths of homeless people: more than 200 in
Russia, 74 in Romania, 135 in the Ukraine and 82 in Poland. Last year, the
United Kingdom saw a 30%
increase in "excess winter deaths" with
an alarming 7,000 of those attributable to poor housing stock and to "fuel
poverty", where soaring gas and electricity prices force people on low and
fixed incomes to make impossible choices: to eat or heat.
Even
some of the most unlikely places are not immune from cold weather deaths of
homeless people. In January 2013 northern India saw a jump in fatalities.
Antarctic cold snaps in Argentina and Chile in 2010 resulted in the deaths of
several homeless people. And this winter at least three Palestinians in Gaza,
including two infants, died in conditions of extreme cold and flooding as a
result of the destruction of their homes during the military offensive they
endured last summer.
None of these deaths make
sense. Winter is, after all, a cyclical thing: not
only expected, but guaranteed. And the extreme cold weather that often
accompanies winter is foreseeable, as is the vulnerability to hypothermia, and
illness leading to death for those with no housing or poor housing.
Despite
all of this predictability, despite the obvious security threat posed by
winter, cold-weather deaths continue. What's particularly striking is the
general lack of concern for those who are at risk of dying.
It
seems we've come to expect that our governments will protect some security
interests but not others. These winter deaths should not be blamed solely on
the cold weather, but rather also on governments who fail to assume
responsibility for the poor and homeless.
If
governments don't want to be implicated in these deaths, they must, at the very
least, institute a zero-tolerance policy for preventable cold-weather deaths.
In the short term, this may mean subsidizing heating costs for those who are
poor, and making available adequate emergency services that provide shelter
while maintaining the dignity of every individual who makes use of them. In the
longer term, governments must adopt housing strategies that demonstrate an
understanding of the intersections between housing, and other economic and social
policies, human security, and human rights.
Commitments
such as these must be made now, in the dead of winter, before the warm summer
winds lull us back into the cycle of denial.