Google has reportedly removed the word "favela" from some of
its maps of Rio de Janeiro in Brazil after pressure from the city hall and
tourist boards.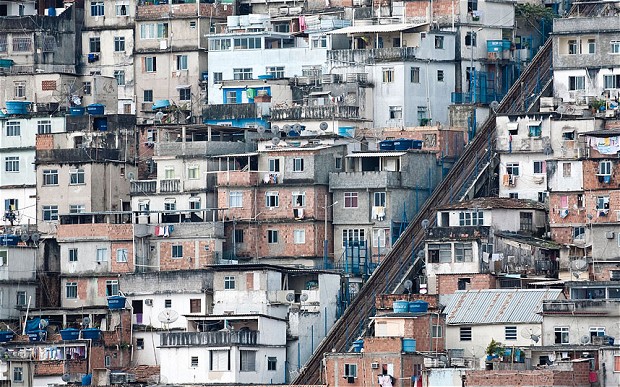 A favela in Rio de
Janeiro Photo: ALAMY
Hundreds of the shanty-town communities sprawl over the hillsides and in
undeveloped parts of the city, and were previously identified on maps using the
Portuguese word "favela".
In recent years, safety in favelas has improved as police have taken
control away from drug gangs though criminal organisations still maintain a
hold on some of the slums.
But since 2009, the Mayor of Rio and tourism company Riotur have
campaigned to have the word removed from the maps to reduce the prominence
given to the communities.
They argued that favelas with only a small number of inhabitants were
given greater importance on the maps than conventional neighbourhoods such as
Cosme Velho and Humaita.
In response, Google has apparently removed the word "favela"
from some of the areas such as Favela Sumaré and Favela Morro do Chacrinha in
the north of the city.
But critics have argued that the move undermines legitimate communities
as well as posing a risk that tourists may unwittingly enter an unpacified
favela.
Images comparing Google maps from 2011 to 2013 show that some favelas
are now described using the word "morro" or "hill".
Rio's Popular Committee, which campaigns against violence, abuses and
exploitation linked to the World Cup and Olympics, said: "The virtual
removal is part of a city project that tries to hide poverty and the poor as
much in virtual environments as in reality, with forced removals."
Another commenter added: "I trust Google Maps to plan my itinerary;
I'm going to end up going through a dangerous place because the City Hall
thinks it's okay to hide information that it is a dangerous area."
In some areas, the word "favela" remains, such as in the case
of Favela do Vidigal near the affluent area of Leblon and Ipanema. But it has
been removed from one the south zone's largest favelas, Rocinha, and Cantagalo
favela is now known as "Morro do Cantagalo".
Google declined to comment on the changes, telling Brazilian newspaper
Estadao it "did not disclose the particulars of discussions with
partners".
* To read
the original article, click here.