From June 25th to 30th, Habitat International Coalition representatives and members were present in Katowice (Poland) to engage in a series of activities in and around the 11th World Urban Forum. The activities developed had a particular focus on networking and coalition building, to visibilize some key points of HIC's work agenda, while strengthening long-standing and new connections.
Taking the opportunity of this first large in-person gathering of HIC members and allies in over two years, a hybrid General Assembly was held on June 25th, as well as a series of strategic conversations both within the coalition and with other stakeholders. Moreover, HIC and its members engaged actively with the large and diverse programme of activities developed during the forum. Below you can find an overview of the main takeaways from the activities developed.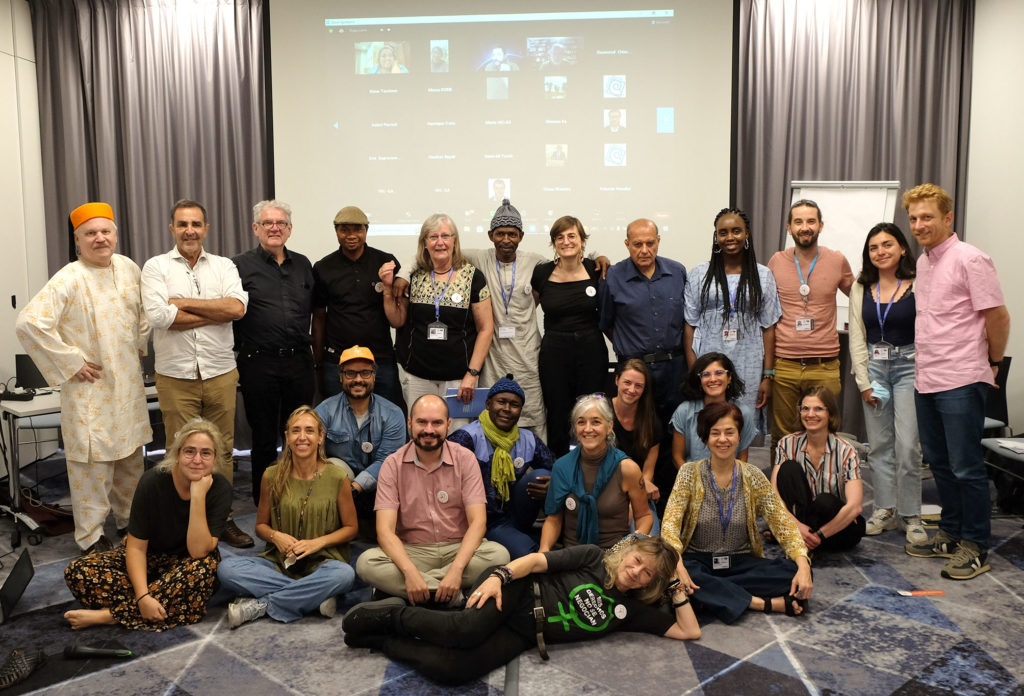 Developed under a hybrid format, mixing in-person and online attendance, more than 80 people participated in the Assembly. Beyond the usual review of activities and updates from Reference Centers and Board Members, this year's GA had a specific focus on celebrating HIC's 45 (+1) year anniversary and looking ahead to the future. This was done through a series of strategic discussions regarding three core thematics to HIC that were held in smaller groups:
Housing & Land Rights; Conflict & Displacement (short presentation by Joseph Schechla) 

Mainstreaming Gender Justice; Right to the City (short presentation by Ana Falú and Lorena Zárate)

Environmental Justice; Social Production of Habitat (short presentation by Carla Rodriguez and Franck Kouame.
The detailed account of these discussions and of the general assembly as a whole will be provided in the official minutes, which will be shared soon. Beyond that, the General Assembly included an in-length presentation of the institutional review process currently in place, for which a special dedicated meeting of the General Assembly will be held in November.

Key strategic discussions emerging: Feminist and Social movements
Beyond these strategic discussions that have taken part during the GA, another key topic addressed during conversations with board representative and HIC members throughout the week in Katowice focused on how to harness the presence and connection with feminist and social movements with and within HIC. Building from reflections from the coalition's history, the conversation centered on different strategies on how this can be carried out with the leadership of board members Ana Falú and Massa Koné. The process will focus on articulation with social movements inside and around HIC (create strategic work alliances with these movements without necessarily needing them to be part of HIC), as well as supporting feminist voices in social movements. More information on concrete pathways for action will be shared soon.

Organized every two years by UN-Habitat, the World Urban Forum (WUF) has no binding commitments but is an important gathering of practitioners and organizations related to cities and human settlements. Over the four days, 17,003 people from 155 countries have attended the event, a testament to the diversity in participation, which was also reflected in the official and parallel programme of activities. 
As in previous sessions, WUF11 has been the stage for diverse and, at times, conflicting visions and approaches to urban development. In this sense, it is fundamental to harness and build on the opportunities for exchange and forging of alliances between strategic collectives and groupings. The WUF assemblies and roundtables offered the spaces for that, but were also marked by unevenness in terms of turn-out and participation, with spaces dedicated to grassroots and social movements needing to be more open and coordinated with collectives.


During the length of the event, HIC and its members organized and engaged in a series of activities, both under the official and parallel programme. In particular, the Habitat Village collective stand (shared with organizations such as Urbamonde, Co-Habitat Network, Global Platform for the Right to the City, DPU, IIED, SDI, ACHR and others) was the home to a set of lively debates and exchanges. Some takeaways of these activities are listed below:
Coalition-building through learning and advocacy
Coalition-building through learning and advocacy
As done during the General Assembly, HIC's participation at WUF was the opportunity to celebrate and reflect on its 46-year history, with a particular focus on the role that learning and critical pedagogies have had and can have in building social force within and beyond the coalition. This was at center stage during HIC's official side event, held on June 29th offering the opportunity to look at different experiences from the caravanes of the Convergence des luttes pour la terre et l`eau, to Instituto Polis' Citizenship School, passing through HIC's co-learning spaces. Throughout the event, the transformative potential of critical pedagogies was highlighted, as well as their role in contributing to building convergences from spaces of difference and reinforcing agency and political legitimacy, both in the case of HIC and other networks such as the Asian Coalition for Housing Rights and Slum-Dwellers International. Beyond the event, the focus on learning and critical pedagogies was well represented in a series of activities held at the Habitat Village stand, from the screening of the Documentaries on HIC-AL's Schools, to the joint debates on Universities' role in producing socially just habitats held by DPU.
Engaging with UN-Habitat for standing commitments
As the landmark Forum organized by UN-Habitat, WUF is a key space for engaging with the Agency and the strategic agendas that it leads. In this sense, HLRN has built on its previous efforts of putting forward a proposal for an official stakeholder engagement mechanism towards UN-Habitat, with the objective of advancing towards more systematic channels for participation and decision-making, in similar models as the one developed along with the Food and Agriculture Agency (FAO). The event was the opportunity to further visibilize and discuss the proposal put forward in 2020 by HLRN and other organizations under the framework of consultations along with UN-Habitat, gearing towards its Assembly to be held in 2023. 
The Forum was also the opportunity to build on discussions held in April during the High-Level meeting on the implementation of the New Urban Agenda, considering that UN-Habitat is the agency responsible to harness and lead efforts for its implementation. Despite being present as a key thematic in the general programme and being mentioned in the declared actions, there was a lack of clear commitments to advancing on its implementation, particularly from a rights-based approach. However, of note has been the continued engagement of ECOSOC, already signaled in April and reiterated by its President, Collen Kelapile, during WUF.    
Forging and cultivating alliances within and beyond HIC
Finally, WUF was a strategic space for harnessing and fostering alliances and joint strategies with a series of actors and organizations. This included the continued dialogue with Local and Regional Governments, particularly under the leadership of UCLG, as indicated by HIC's participation at the Assembly of such constituencies, where HIC President, Adriana Allen highlighted the need to forje joint strategies to confront the financialization of housing and land and reset the commitments on climate change into more concrete actions, focusing on care.
In thematic terms, it was also the opportunity to build on long-standing efforts being developed around the feminist agenda and on integral neighborhood upgrading. On the first one, beyond the women's assembly, it is key to highlight the activities developed by the Women and Habitat Network from Latin America and the Caribbean, most notably the side event "Feminist perspectives on cities – the intersection of theories and praxis", focused on discussing how to secure and protect womens' right to the city from a feminist perspective. On the second, the discussion "​​Envisioning slum upgrading for the city of tomorrow" held on June 28th was the opportunity to advance discussion on how such an agenda can be led in Latin America under a post-pandemic context, under an approach that builds on the social production of habitat, as highlighted by the collective campaign "Our neighborhoods" being led by HIC-AL and members. 

We'd like to thank all of those that have joined the activities either remotely or in person. We are looking forward to keeping on building on the connections and reflexions emerging from these days in Katowice. Please stay attentive to our communication channels for more updates.