The experience of women from La Plata who build their homes with the construction systems developed by CEVE-CONICET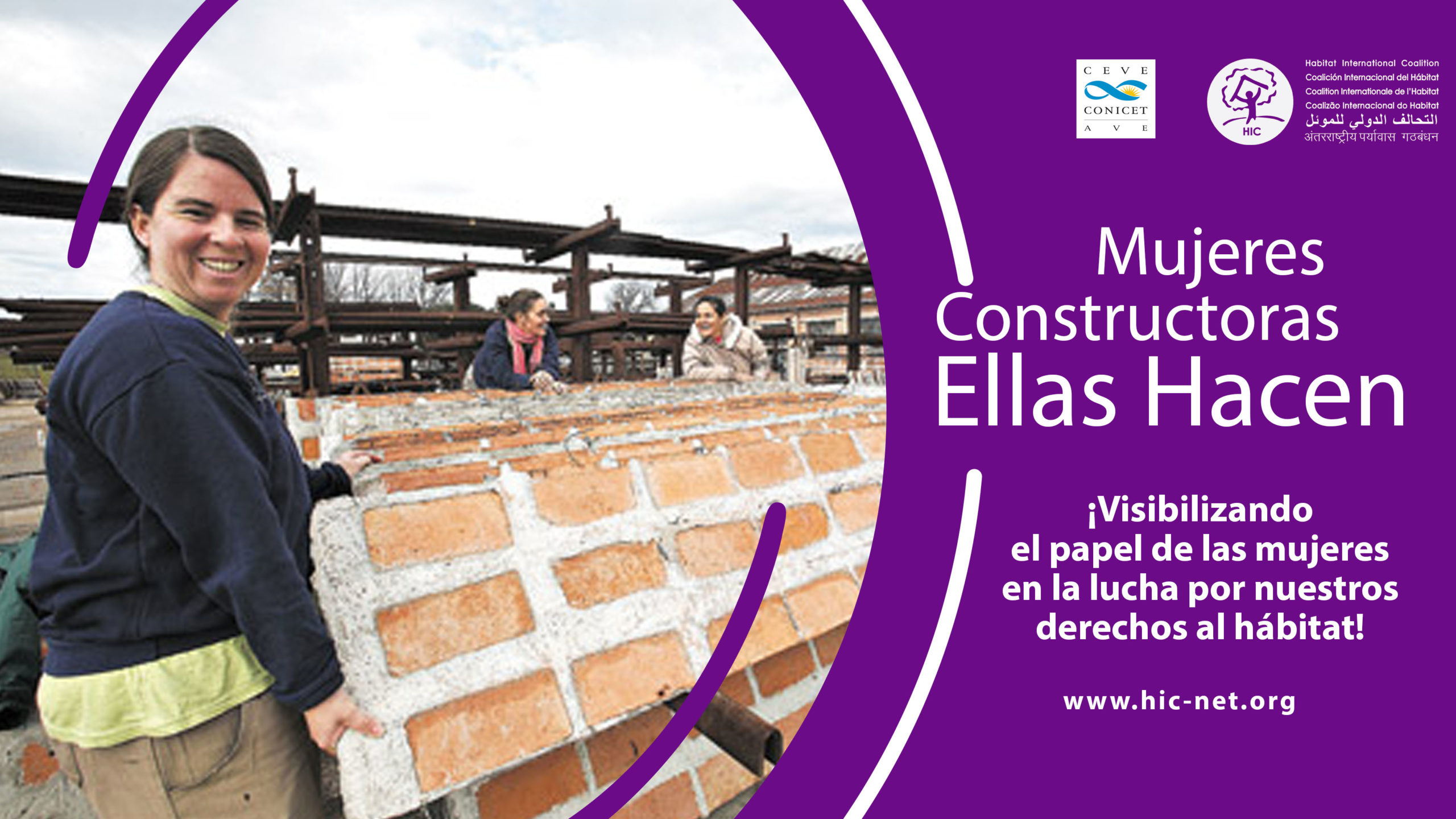 This is the story of women affected by the 2013 flood in the province of Buenos Aires who trained as masons, plumbers and electricians
Miriam is one of the women from La Plata who are currently participating in the Ellas Hacen (They do) program, aimed at women heads of household, with dependent children under 18, who receive the Universal Allowance or are victims of gender violence. In the case of Miriam and her companions, there is one more condition: they were all victims of the floods that struck the city of La Plata on 2 April 2013.
Daiana, another of the program's beneficiaries, says they learned "to build a wall, to weld, to take out a level, to install hot and cold water, to make a light connection. The group she is part of does not hide its enthusiasm.
A work for men?
When asked if this is a man's job, Daiana says that her own trainers – all of whom are men – claim that "we ended up teaching them. Nancy points out that "we are more detail-oriented when it comes to work, and it shows in the finishing of the houses. "We need to be two to lift a plate while only one man can do it. Our strength is in unity," Miriam says.
Daiana says her children "laugh themselves to death" when they see her working as a bricklayer. "Besides, I have three brothers and a father. They never believed I could transform my house until they saw it, from a little wooden house to one made almost entirely of material, made by me."
Nancy adds that because she is a woman, "she had no trouble learning. The desire makes one open to learn everything that is explained to you. Sometimes it's a matter of skill and not so much strength.
An alternative job, an empowering job
Daiana, 36, with four children, says: "We are part of a sector for which it is very difficult to get a job. The Ellas Hacen programme offered them this possibility in addition to learning a trade.
The method they learned for construction comes from the Experimental Center of Economic Housing of Conicet. It involves the unification of two construction systems: the UMA (iron structures and prefabricated brick panels) and the BENO (for the enclosures). They are "removable" type houses, their different parts can be moved and assembled on the ground. The houses have two rooms, with the possibility of being extended.
Many of these women have built their own house. This experience has made it possible to train women in the transfer of construction technologies developed by the Experimental Centre for Economic Housing (CEVE), for the manufacture of components for housing construction, in the framework of the National Sub-Programme "Ellas Hacen", implemented by the Ministry of Social Development.
Together we are stronger: the key is cooperativism
Many of these women were invisible. When they began to work and make contact with other colleagues – they participated in groups of 4, 8 or 10 with a coordinator – they started working links that strengthened them. Daiana explains: "The training teaches you how to work in a cooperative. We were able to apply the solidarity that was generated among us to the work. We are already cooperative members.
"Ties of friendship, of companionship, of solidarity were generated," adds Clarisa. "For a woman locked up in her house with three, four children, it is difficult: many times she needs things and does not ask for them, or does not know how to express herself. Here, girls arrived at work who didn't speak."
Miriam is proud of her classmates. "The good thing is no one is in charge, we communicate before we do anything, it's worth everyone's while." And she says with joy: "There are friends who tell you 'I have to move my house at the weekend' and we all automatically say 'well, come on, let's get together and help you do it', or someone else has a roof over her head and in the middle of the storm the friends come out to help her.
It changed their relationship with their peers," says Castagneto. Girls don't live in an environment where they interact with other women a lot. Being here all the same, from those who couldn't almost write to those who were university students, made them confident."
All four agree that the happiest time is when they finish a house. "It's amazing the satisfaction of finishing a work. What person doesn't want to have their own decent home to live in with their children? That gratitude is for life," says Nancy. For her, "it's a double satisfaction because you end up with the work and a house for someone else. Daiana says that the first house she had to build was for a family of nine children. "I got letters from the kids saying 'thank you for making my home. Sometimes I run into them on the bus and they say hello, hug me, tell me how they're decorating their house.
They also use their knowledge in the neighborhood. Miriam, for example, says that "now we see that the floor of the square is broken and we take a little cement, a little pastry and we build the sidewalk. Before, we used to stay in the complaint. From here you come out with other knowledge and with other desires to help".
We have realized that we can, that we are capable. We all showed that we wanted something else for ourselves and we have achieved it.
Let's make visible the role of women fighting for our habitat rights!
The list of women in our Coalition who have fought and are fighting to make visible the role, experiences and rights of women and girls to be respected is long. This initiative wants to disseminate, recognize and publicly value their work.
Help us to know your experience or that of other women so that these values reach more people!
Use this template to share with us-stories of social justice and habitat rights in which women are the protagonists.
Share this message on social networks
Source: Página 12 y http://www.ceve.org.ar/