The Institutional Mechanism Working Group will present this stakeholder-engagement mechanism during the World Urban Forum 10, celebrated in Abu Dhabi in February 2020.
The UN General Assembly has resolved that UN Habitat, the agency specialized in developing human settlements, revise its governance and stakeholder-engagement structures. Following the commitments from the volunteer Institutional Mechanism Working Group of the May 2019 Global Stakeholder Engagement Forum, the Institutional Mechanism Working Group has fulfilled its commitment to propose this stakeholder-engagement mechanism in time for World Urban Forum 10, celebrated in Abu Dhabi in February 2020.
The present proposal for a new fit-for-purpose institutional mechanism for UN Habitat stakeholder engagement reviews the history and constellation of UN stakeholder-engagement mechanisms inside and outside the realm of UN Habitat.
Partnership of non-governmental organizations in sessions of the UN entities' executive structures has been habitual elsewhere, most notably in the Rome-based agencies—notably the Food and Agriculture Organisation of the UN (FAO) and the UN Committee on World Food Security (CFS)—to allow for structured interaction with representatives of civil society, the private sector and others that go beyond those reserved for mere mute observers. Rather, greater participation not only ensures greater dignity of all parties concerned, it enables stakeholders to flourish as valuable—and valued—contributors to the work of those boards. The stakeholder-engagement mechanisms present the nearest examples of "partnership" and, thus, inform this review on the possible.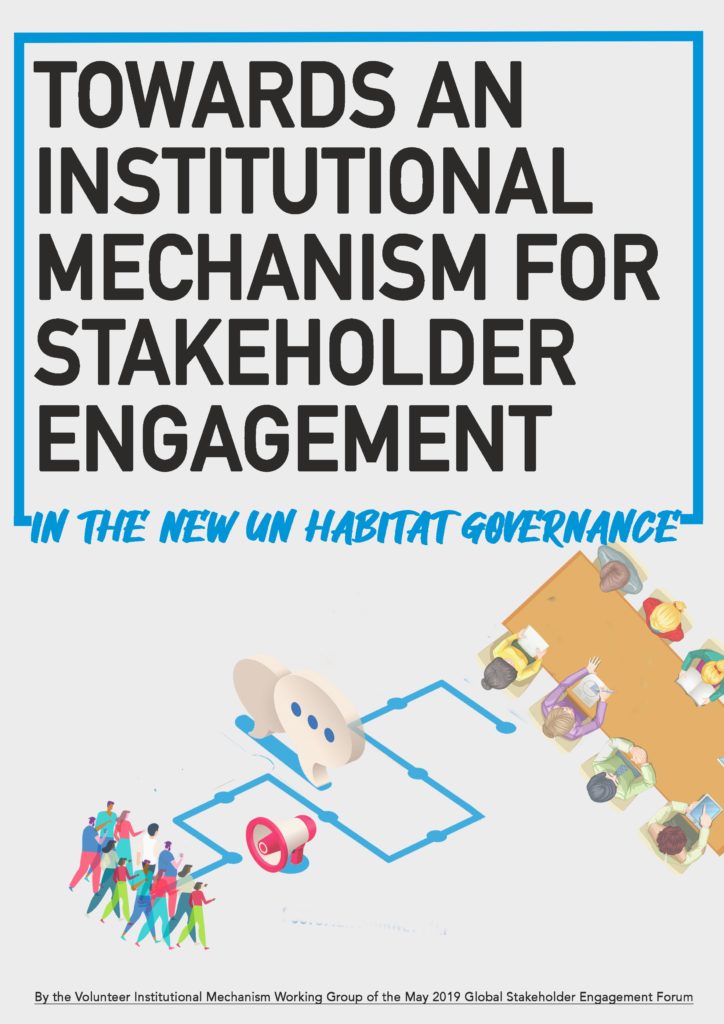 This paper should be disseminated and debated among UN Habitat stakeholders and other interested parties for comment. While its promised appearance at the 10th World Urban Forum is an important step, the WUF is presently no forum for decision making. In advance of the forthcoming UN Habitat Executive Bureau meeting, representatives of stakeholder groupings on the subject of engagement (i.e., at a level of stakeholder participation[1]) in the new governance structure of UN Habitat should meet and otherwise discuss the proposals emerging from this and other sources.
This paper remains open to new participants interested in bringing support, ideas, suggestions and other feedback. For more information and/or to make your contribution to this working paper by 15 April 2020, please contact:
Joseph Schechla
Housing and Land Rights Network –
Habitat International Coalition
Email: jschechla@hlrn.org