·
'When I was herding I had a plentiful life. Now I am
working for another and have lost my independence'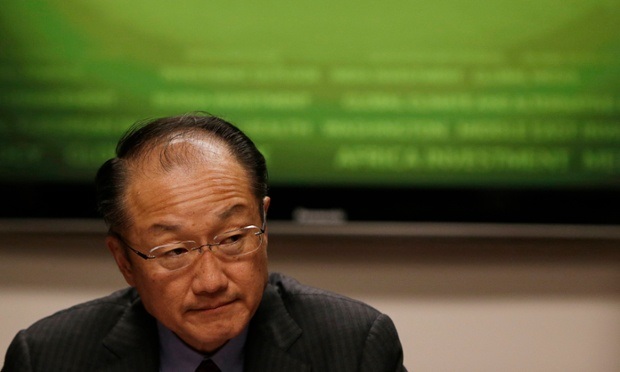 World Bank Group President Jim Yong Kim at a recent climate
change conference. He admits that the recent findings on resettlement cause him
'deep concern'. Photograph: Gary Cameron/Reuters
The World Bank last week admitted
publicly it had no
idea how many people may have been forced off their land or lost their jobs due
to its projects. The Bank also did not know whether these people were
compensated fairly, on time or at all.
"We
took a hard look at ourselves on resettlement and what we found caused me deep
concern," said World
Bank group president
Jim Yong Kim. "We found several major problems. One is that we haven't done a
good enough job in overseeing projects involving resettlement; two, we haven't
implemented those plans well enough; and three, we haven't put in place strong
tracking systems to make sure that our policies were being followed. We must
and will do better."
In
internal documents now made public, the World Bank admitted its own failures to
understand, monitor and deliver even on its most basic policies. A review of 59 projects where resettlement was
anticipated found that "a disturbingly large number of projects had
insufficient data available to allow evaluation, and thus received 'Don't Know'
ratings." The status of people physically displaced was unknown for 61% of the
projects and in most of these there was "little or no information about the
replacement housing or what had happened to the relocated people."
Of the 37 projects with
resettlement plans that included measures to address the needs of indigenous
peoples and vulnerable persons, more than half did not document any
implementation at all. Even fewer discussed the effectiveness of the measures
they reportedly did implement. The report concludes: "It is troubling that more
projects were designated 'Don't Know' than were rated; more often than not there
was insufficient information to allow a rating … In general, the
implementation of measures for indigenous peoples and vulnerable persons is one
of the weakest areas of reporting in project documentation. While documentation
was generally weak, the information provided … points to poor implementation."
On
the question of whether or not the incomes and livelihood of those displaced
had been restored, there was insufficient information to include 56% of the
projects sampled. In one particular project, where female-headed families
should have been provided with job opportunities, no effort had been made and
no explanation was given for the failure to do so.
As
the International Accountability Project (IAP) and our partners have seen
countless times in many countries, the current focus of development is often
purely on the end product itself and the purported economic benefit to a few.
These projects are conceived, designed and funded by a very small number of
people – often people who have never set foot in the country, let alone have
spoken with those in the community itself.
It
is rare for those who will be affected – whether positively or negatively – to
be involved throughout. In fact, they often don't even find out what's
happening until after the project is already set into motion. And now there is
further confirmation that those funding projects that should improve the lives
of people have not been keeping track of what happens to those affected by their
own projects.
In
an upcoming report by IAP and our global advocacy team, in which 800 people in
eight countries who have been affected by development were surveyed, even when
governments and funders promise to improve their lives, 77% reported no benefit
from the project. Of the few who received some compensation or assistance to
move from their homes, only 8% said their lives had improved for the better. A
climate of fear limits 67% of respondents from fully participating in any
government-led consultations, if these consultations happen at all. The reality
for many facing development can be quite grim – more than 84% of those surveyed
have been or will be displaced by a development project – many by force. In
fact, 26% report physical violence was used to force them to move from their
homes and land.
* To read more, click here.
The report Back to Development – A Call For What Development Could Be has been released in English, Spanish and Arabic in the
eight countries where the community-led research was carried out. You can read
an exclusive extract on GDPN here.
Ryan
Schlief is the executive director of the International
Accountability Project.