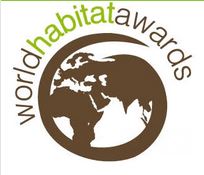 Do you know a housing project that's making a
real difference?
Why not enter it
into the World Habitat Awards?
The annual World
Habitat Awards area great way of identifying and celebrating good
practice in housing worldwide and entries are now open for the 2015/16
competition.
Previous winnershave included projects which
really demonstrate the wider benefits of good housing, for example health
improvements, energy savings or improved community cohesion.Recent winners have included projects
which have had a significant impact on people's lives by tackling topics as
wide-ranging as chronic homelessness and the regeneration of historic cities.
BSHF runs the
Awards in partnership with UN-Habitat and this brings clear benefits for the winners.As well as this high profile,
international recognition for their innovative practices, winning projects also
receive a cash prize of £10,000, a trophy and have the opportunity to transfer
their award-winning approach through peer-exchange activities sponsored by
BSHF.
Entries are
assessed by a panel of international judges and trophies will be presented to two winning projects
at Habitat lll, the United Nations Conference on Housing and Sustainable Urban
Development, to be held in Quito, Ecuador in 2016. Holding the presentation at
this high profile event will provide increased opportunities for international
exposure as well as opportunities for networking and the dissemination of the
award winning approaches.
Housing projects
which demonstrate practical, innovative and sustainable solutions to current housing needs are
invited to submit their entries (in English, Spanish or French) via the World
Habitat Awards website www.worldhabitatawards.org. The competition is open to any
individual, organisation or government agency.
Entries must be
received by 30 April 2015.