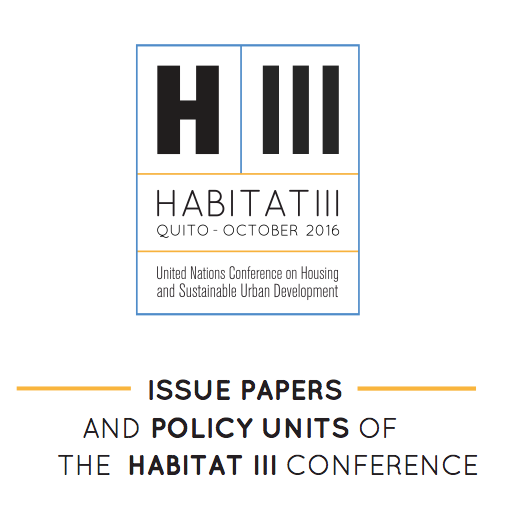 NEW YORK—
Following two months of delay, the organizers of next year's HabitatIII summit on urbanization have made public the list of 200 individuals who
will make up key thematic expert groups for the drafting of the New Urban Agenda, the 20-year strategy that will come out of
the conference.
Each of these individuals, drafted from the worldwide ranks of
experts in housing, planning, architecture, design and urban development, will
provide targeted recommendations on one of 10 topic areas. Their work will form
the backbone of the New Urban Agenda, ideally by providing a set of policies,
ideas and guidelines that U. N.member states will adopt in order to set a global
strategy for sustainable urbanization for the coming decades.
[See: New deadline announced for HabitatIII'policy units'
recommendations]
Finalizing the composition of the
policy units has repeatedly blown by deadlines. National governments and
stakeholders submitted hundreds of nominations over the summer, and the
announcement on who would make up the policy units was expected in early
August.
But the process of confirming each
expert's availability and willingness led to considerable delays. By early
September, 90 percent of the experts had been confirmed, according to the
HabitatIIISecretariat,
but those needing a replacement required much more time. The selection process
also stipulated a strict balance by gender and region, which hampered the
secondary search to fill the remaining slots.
Despite the two-month delay, the policy
units will be expected to adhere to the pre-existing schedule. Now that their
work can commence in earnest, the experts will be mandated to meet an
end-December deadline to prepare the first draft of their reports, which are to
be finalized by early February.
Para este trabajo los
expertos cuentan con los 22
"documentos temáticos" y con las comentarios a estos documentosproducidos
por agencias m
Still, they won't be starting from
scratch. The experts' work will use as a jumping-off point at least two
components that have already resulted from the HabitatIIIprocess: the 22 technical "issue papers" that were produced by agencies across the
multilateral system earlier this year, as well as the government and
stakeholder reactions to those papers submitted over the summer.
[See: July a crucial month for input on HabitatIII'issue
papers']
Certainly many of the experts say they
are ready to go.
"This is a singularly critical moment
to advance national urban policies around the world," said Tom Dallessio,
publisher of Next City, who serves on the unit looking at national urban
policies. "Serving on this policy unit in advance of HabitatIIIwill enable me to share knowledge and explore
opportunities to shape a New Urban Agenda for both the USA as well as for countries around the world."
The range of policy units is broad,
from core issues that reflect past Habitat conferences, such as housing and
national urban policies, to more recent concerns such as the "Right to the
City", urban ecology and resilience.
[See: Fractured continuity: Moving from HabitatIIto HabitatIII]
Mary Rowe, vice-president of the
Municipal Art Society of New York, serves on the unit that will focus on the
socio-cultural urban framework. "What makes cities vibrant and dynamic — and
fundamentally resilient — is their unique 'culture', reflected in communities,
neighborhoods, cultural and civic assets," she said. "This policy unit needs to
develop strategies and action plans — a framework — to engage city dwellers in
defining the contributors to city livability, and how to protect and enhance
them."
Each policy unit is composed of 20
experts and will be led by two international organizations, which will be
elected. (Terms of reference are available for both the experts and
the lead organizations.) The individuals who will fill the expert
spots, along with their background, can be found here:
1.
The Right to the
City and Cities for All
2.
Socio-Cultural
Urban Framework
4.
Urban
Governance, Capacity and Institutional Development
5.
Municipal
Finance and Local Fiscal Systems
6.
Urban Spatial
Strategies: Land Market and Segregation
7.
Urban Economic
Development Strategies
8.
Urban Ecology
and Resilience
9.
Urban Services
and Technology
10.
Housing Policies