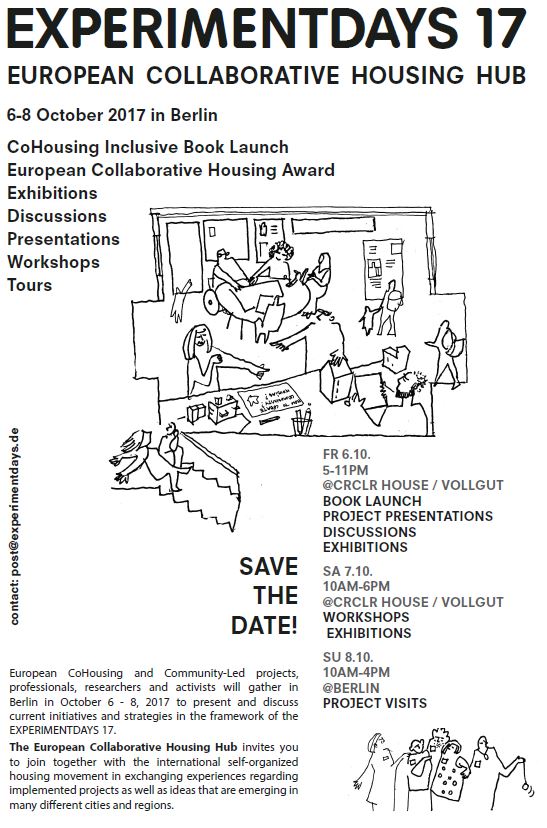 Project Call – European Collaborative Housing Award
Are you part of a collaborative housing project based in Europe? Participate in
the 2nd European Collaborative Housing Award! The
Collaborative Housing Award is a public recognition of innovative housing
projects, able to inspire their peers and to influence housing and urban
policies, both locally and internationally.
Up to four projects will be selected by an international jury and invited to
the 
second European Collaborative
Housing
, which will take place on 

October 6-8, 2017

, in the framework
of the 
EXPERIMENTDAYS
in Berlin. The
EXPERIMENTDAYS are a platform of exchange and innovation for self-organized
community housing projects in and around Berlin, and internationally. The
selected projects will participate in peer-to-peer exchanges, field visits to
local projects in Berlin and will be shortlisted for the 
World Habitat
Awards 2018
.
How to participate?
Document your experience on the 
online platform
(
https://psh.urbamonde.org/
) before
July 31st, 2017 (in English, French, Spanish or in your
language, if you do not speak any of these)! To do so, register, click on "add
community" (top right), and fill in the information asked. To submit your
project to the award, click on the "Register for the Award" button. You will
receive a confirmation email.
Invitation Start-up Projects
Would you like to set up a collaborative housing project? Do you need technical
or legal advice?
Participate in the 2nd Collaborative Housing Meeting,
October 6-8, 2017 in Berlin, exchange with your peers and take part in the
workshops dedicated to start-up projects!
For
more information: psh.urbamonde.org
Get in touch: psh@urbamonde.org and post@experimentdays.de