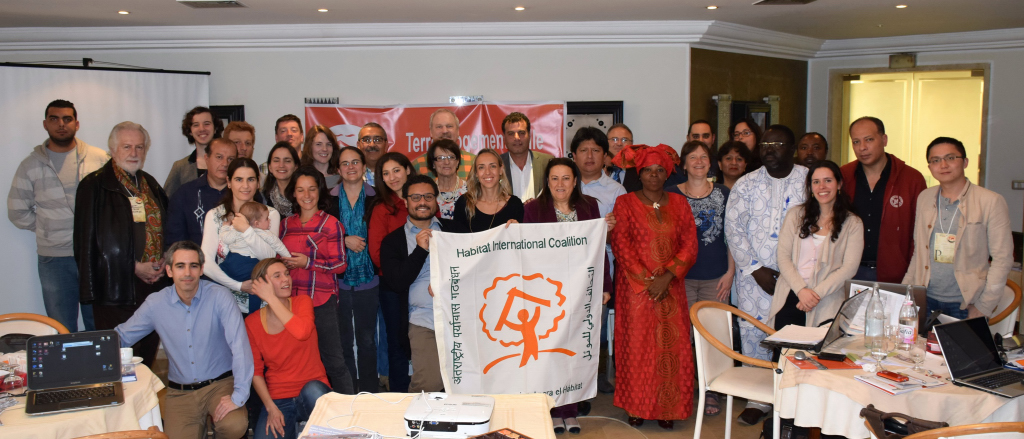 Attendees (See detailed list): Yasser Abdelkader (YA),
Marie Bailloux (MB), Marisol Castillo (MC), Josette Cole (JC), Benoit Debuigne
(BD), Silvia Emanuelli (SE), Alex Frediani (AF), Ramiro Garcia (RG), Sherouan
Hassan (SH), Ernesto Jiménez (EJ), Yves Joël Zoffoun (YJ), Sylvie Lacroix (SL),
Rafaella Lima (RL), Jia-He Lin (JL), Ahmed Mansour (AM), Emily Mattheisen (EM),
Nathan McDonnell (NM), Philippine Meunier (PM), Zama Mgwatyu (ZM), Isabel
Pascual (IP), Alvaro Puertas (AP), Dimitri Roussopoulos (DR), Iman Salama (IS),
Nelson Saule Jr (NS), Joseph Schechla (JS), Pascale Thys (PT), Malin Widehammar
(MW), Pauline Yao (PY) y Lorena Zarate (LZ).
Simultaneous translation: EN ES FR assumed by 6
translators.
Minutes: Marie and Isabel
Chair: Lorena and Alvaro
1. Welcome
message from the President of HIC
LZ: Welcome everybody, good
morning. It is a great joy to have you here today, many of you have traveled
from afar to be in the activities of the World Social Forum (WSF). We welcome
in particular HIC members and other organizations present today. The General
Assembly (GA) is an open meeting of HIC members, but we always welcome new
organizations in order to work together and strengthen our struggles.
AP: First, I would like to
thank each and every single person who has contributed to the Forum's
activities and second, I would like to welcome all HIC members, friends and
allies. Let's seize this opportunity to continue planning future initiatives in
2015 and 2016, as they will be very eventful years.
PY: Good morning, I'm
Pauline Yao, Board representative of the African region and originally from
Ivory Coast. I thank the Secretariat team for the work carried to gather all of
us here. For us, the fight for land, housing and the city is important and it
is satisfactory to join this global struggle.
LZ: We had an interesting
meeting on Saturday and Sunday during the Board Meeting, where different topics
were previously discussed before doing it here. We were missing the following
people: Rajaa, who cancelled the trip for different reasons, even though she was
connected through Skype at some point, Michael Shapcott, representative of North America, and
Vanesa Valiño, representative of Europe. I would like to thank the Secretariat
team for the enormous work accomplished to prepare these meetings, the internal
HIC activities and the Forum activities, together with different allies.
* Click here to download the complete minutes.