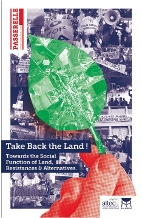 If land, whether rural or urban, were viewed as playing an essential
role in all
human beings' life, just like air or water, and its value in use
outweighed its
exchange value, wouldn't our cities and countryside look completely
different?
Many social movements, researchers, social organisations, local and
national
authorities as well as international organisations are concerned by the
issue of the social function of land and of housing, worldwide.A
reflection on different ways to relate to land – other than ownership –
must therefore be carried out, i.e. ways that do not entail abusing,
speculating or excluding others.
Thanks to contributions by different actors, this issue sheds a light on
the progress of the social function of land and housing in the
different areas of the world.
This issue's singularity is linked to its insight into a potential
alliance between
inhabitants and peasants, between rural and urban issues. Much food for
thought is set forth here on points of mutual interest, alternatives and
resistance practices around the world.
Charlotte Mathivet is a political scientist and a right to housing
and right to the city activist. She edited number 7 of the Passerelle
Collection, Housing in Europe: Time to Evict the Crisis.
She is the coordinator-editor of this issue
This publication is also available in French. It also will be available
in Spanish in March and launched at the World Urban Forum in Medellín in
April 2014.
You can download this publication here in English and here in French, see link below
Price of the book: 10 euros