That was just the reaction Jean-Baptiste and Augustin Legrand were hoping for. All this began on Dec. 16, when their association known as the Children of Don Quixote set up around 100 tents for the homeless alongside the canal. The organization then called on more affluent Parisians to come spend time — or even an entire, freezing night — at the camp to feel what the poor experience. Brothers Jean-Baptiste and August Legrand founded Children of Don Quixote, and laid out nearly $4,000 in personal savings to dramatize the situation of the homeless during a French pre-electoral season in which poverty seems conspicuously absent from the political debate. Since then, additional homeless people have flocked to the site to take up residence in tents provided by other nonprofit organizations. The canal-side site was chosen, explains Jean-Baptiste Legrand, because "it's one of the few places where authorities couldn't send the police in to break it up without chasing the homeless into the water.
"For most people, the homeless are just another part of the cityscape, like cars and trees and buildings. People don't give them a second thought," said Jean-Baptiste…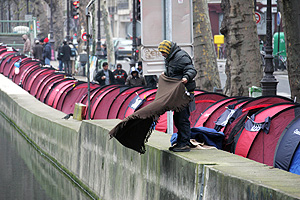 "What we want is for the 'well-housed' to realise the extent of these people's misery," said Augustin… "We want hundreds of thousands of people to come and join us in the streets, to sleep rough alongside the homeless."
The French government announced plans to create a "legal right" to housing in response to this snowballing campaign. Prime Minister Dominique de Villepin told a press conference a bill would be presented to the cabinet on January 17 and hopefully adopted before parliament breaks up ahead of April's presidential election. The law, if passed, would make France the second European country to guarantee the right to housing, after Scotland which adopted similar measures with its 2003 Homeless Act. President Jacques Chirac used his New Year's address to promise swift government action on a "right to housing" — a key demand of protestors who have mounted a headline-grabbing campaign in support of France's estimated 100,000 homeless.
By 2012, the government wants the right to housing to be legally enforceable for all, with a guarantee provided by the state, or in some cases regional or local authorities. From that point onwards, "every person or family housed in unworthy or unsanitary conditions" will able to take legal action to have their rights enforced, he said.
Also, three organisations (Droit Au Logement, Jeudis noirs and Macaq) moved into a vacant office block near the Paris stock exchange, a giant squat they have dubbed a "ministry" for the homeless and ill-housed.
According to the charity Emmaus, one million people in France do not have a home of their own: 100,000 sleep rough, while the rest live in campsites, hotels or shelters. Another two million people have housing "problems". The "right to housing" measures come in addition to a 70-million-euro (90-million-dollar) emergency plan for the homeless announced last month.