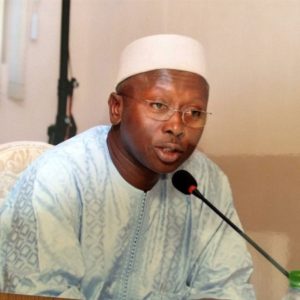 Notre collègue Malick Gaye, directeur exécutif d'ENDA Rup au Sénégal, un ami proche de la famille HIC, est décédé récemment, le 16 novembre 2021.
Malick faisait partie intégrante de HIC depuis ses débuts, représentant ENDA Tiers Monde et après, à partir des années 1980, ENDA RUP. En représentant les deux organisations, il a toujours apporté un changement critique dans la pensée et réagissait en se basant sur le besoin
impératif d'aborder les défis urbains et la justice environnementale en s'appuyant sur les connaissances locales, l'innovation et la capacité d'organisation.
Malick était un leader charismatique, un sage, un homme de principe et un combattant, défenseur infatigable d'un monde plus juste pour toutes et pour tous et en particulier pour les plus petites communautés et les plus marginalisées. C'est ainsi que nous nous souviendrons de lui et que nous honorerons sa mémoire.
Depuis que nous avons informé les Adhérent-e-s et Ami-e-s de HIC de cette grande perte, nous avons reçu et été témoins d'un déluge de messages à la mémoire de Malick. Son départ est déploré par tous ceux et toutes celles qui l'ont connu, à travers l'Afrique et dans le monde.
HIC continuera à célébrer sa mémoire, à valoriser ses importantes contributions et à reconnaitre de son immense héritage pour les décennies à venir.
Toujours dans nos pensées, que Malick repose en paix.
Au nom du Conséil et de la communauté HIC,
Adriana Allen
Présidente de la Coalition Internationale de l'Habitat (HIC)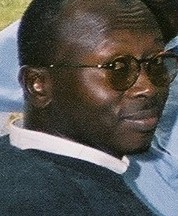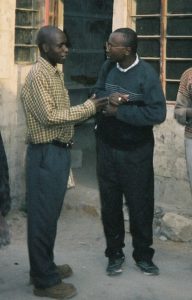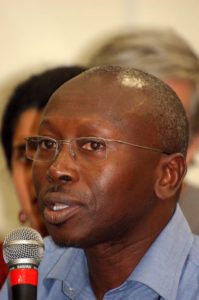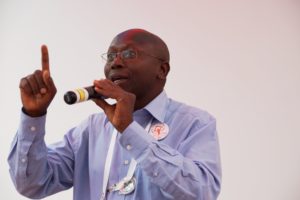 M. Malick Gaye était architecte, urbaniste et chercheur à Enda Tiers Monde – environnement, développement et action depuis juillet 1982. Il était Directeur Exécutif du Relais pour le développement Urbain Participé du Réseau mondial d'ENDA TM qui a obtenu le Statut consultatif Spécial de l'ECOSOC des Nations Unies et aussi membre de son bureau du Département d'Initiative Politique et devenu depuis 3 ans Partenaire Stratégique de l'Union Européenne. Il représente le Réseau ENDA TM dans la Coalition Mondiale de l'Habitat – HIC – depuis 1987 et à la Conférence de Limuru au Kenya, ainsi qu'à ONU-HABITAT. La dernière Conférence Internationale où il en a été le Représentant officiel est HABITAT III, après HABITAT II d'où il avait, en guise de contribution, son 2ième ouvrage «Villes entrepreneuses» en 1996, après son 1er ouvrage intitulé «Naissance d'une ville au Sénégal».
Il a organisé la « Déclaration d'engagement solidaire de Dakar » avec la participation de plus de 15000 habitant-e-s de bidonvilles à la «Campagne sur la sécurité de l'occupation foncière et immobilière et la bonne gouvernance» en 2004, après sa participation au Lancement en 2001, à Mumbay, en Inde, de la «Campagne Mondiale» sous égide de Cities Alliance et ONUHabitat, suivi de celle en Afrique du Sud avec SDI.
Il a coordonné entre 2006 et 2010, une étude commanditée par l'OMS – l'Organisation Mondiale de la Santé – sur les options d'utilisation saine des eaux usées dans l'agriculture urbaine au grand bénéfice de la communauté des agriculteurs et agricultrices urbain-e-s dans les terres à vocation agricole, appelées les Niayes sur le littoral maritime du Sénégal. Il était aussi coéditeur et a lancé à l'occasion du Sommet de Johannesburg sur le Développement Durable (Rio+10) de 2002, l'ouvrage intitulé «Épuration des eaux usées et
agriculture urbaine» sur la base de la recherche-action financé par le CRDI sur le champ d'expérimentions à grandeur nature de systèmes d'assainissement en condominium assorti d'épuration de toutes les eaux usées et vannes de près de 275 concessions. Ce système implanté pour la 1er fois par Enda Rup au Sénégal avec un financement de l'ACDI et qualifié de Meilleure Pratique a, par la suite, été capitalisé comme un nouveau standard d'assainissement urbain et périurbain du Sénégal, lors de la recherche de solutions alternatives pour la réalisation des cibles 6 et 11 des OMD 7 de Développement Durable, devenu aujourd'hui les ODD 6 et 11.
Il a présidé pendant de nombreuses années une Association de Développement de Quartier, de la collectivité territoriale où il habite et où il a reçu en 1991 le SG de HIC, Enrique Ortiz, et Wandia Seaforth de Mazingira Institute du Kenya. Il a cordonné le Point Focal pour l'Afrique francophone de HIC pendant près d'un quart de siècle, ainsi que son Centre de Référence pour la relation entre Habitat et Environnement.
Il était membre du Groupe de Plaidoyer/Advocacy de la Plateforme Mondiale du Droit à la Ville de HIC. Il est aussi membre, au titre de son appartenance en tant que cofondateur du
réseau AURI – African Urban Research Initiatives -, du Groupe de Travail 2 de recherche sur
l'Accès aux services socioéconomiques dans les Villes du Sud du Projet Intercontinental
«JWP-Cities Alliance, N-AERUS, AURI, REDEUS-LAC»
Il donne présentement (en vacataire) des cours «d'urbanisme opérationnel» à l'ISIT Africaine
(Institut Supérieur Ingénierie Territoriale africaine) et en Master DESS du module «Villes,
Régions et Territoires» à l'ESEA-UCAD – Ecole Supérieure d'Economie Appliquée de
l'Université Cheikh Anta Diop de Dakar.
Malick leaves behind a beloved family whom HIC extends our sincerest condolences.
Read here the full biography of Malick.

HIC wants to pay tribute to Malick Gaye in this virtual space dedicated to his memory, collecting HIC Members, Friends and Allies memories with such a key and beloved person as him.
We invite you to share those memories or messages by sending them to gs@hic-net.org, and we will incorporate them into this dedicated space in his memory.