HABITAT III Africa Regional Meeting
"African Priorities for the New Urban
Agenda"
Land and African Sustainable
Urbanization, side event organized by GLTN
Abuja, Nigeria, 23 February 2016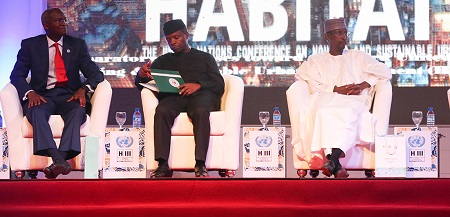 Summary
prepared by Ahmed Mansour Ismail (HIC-HLRN) and Dr. Daniel W. Ambaye (Institute of Land Administration)
Mr
Ernest Aubee,
ECOWAS (as moderator) introduced the panelists and further emphasized the
thematic area for the session with the prediction that, by 2050, Africa will be
60% urban and the need to make preparations to ensure fulfillment of the SDGs.
Also,
he mentioned that land governance is the most-challenging issue in Africa. The
land policy makers have failed to consider the importance of land for
sustainable urbanization. Land is not yet considered as commercial asset and,
hence, economically less significant than in other regions. Land alienation and
the absence of a functioning land market have contributed to land rather
becoming a source of corruption. Land-use restrictions and the lack of access
to land through clear and transparent methods have led to significant slum
living conditions in urban areas. In addition, the majority of conflicts in
Africa are related to land claims and disputes. He further pinpointed the
possible issues related to urban land that need focus:
·
Land
market and economic value of land,
·
Slum
problems,
·
Land
conflict,
·
Lack
of land rights (tenure security),
·
Land-value
sharing, and
·
Environmental
issues.
Dr.
Larbi (Land Policy Initiative LPI – Ethiopia) introduced LPI,
established in 2006 by an agreement among the African Economic Commission,
African Union and African Development Bank to encourage African states to
recognize the importance of land for development. In 2009, the AU adopted the
Declaration on Land Issues and Challenges in Africa to secure land rights of
the people and reduce conflict.
The
declaration recommended that African states:
·
Prioritize
and initiate a land policy framework for their countries
·
Support
an institutional setup to monitor and implement the land policy
·
Allocate
adequate budgetary resources to implement and run the operational activities
·
Ensure
land be allocated equitably to all, and especially protect vulnerable groups
·
Pay
special attention to strengthening women's land rights
·
Use
the regional economic community to create a forum for discussion on
implementation.
LPI
has also further developed, or has helped to develop the:
·
Framework
and Guidelines on Land Policy in Africa (2010) for development, implementation
and monitoring of land policy
·
Voluntary
Guidelines on Responsible Land Governance of Tenure of Land, Fisheries and
Forests (2011)
·
Guiding
Principles on Large-scale Land-based Investments (2014).
Ms.
MargaretOkolo-Ebube (Director of Federal Ministry of
Lands, Housing and Urban Development, Nigeria) pointed out the rapid
urbanization in Africa and the centrality of land in this process. Secure land
rights are a prerequisite for development, as no sustainable development and
investment can be attained without secure land rights. To ensure this, for example,
in Nigeria systematic land registration has been carried out, driven by a lack
of reliable land information systems in the country. The rest of her message
was captured in the following three important points:
·
Secure
land rights for all
·
Ensure
land rights for vulnerable groups
·
The
need for comprehensive land policy
Professor
J.M. Lussaga (Ardhi University, Tanzania)
presented African urbanization problems and challenges in four thematic areas
as follows:
 Physical
and technical problems
·
Growing
slums
·
Urban
development without land use plan
·
Lack
of tenure security
 Land-governance
deficit
·
Marginalization
of low income people
·
Low
compensation during expropriation
·
Diminishing
public land for community engagement
·
Continued
corruption
 Institutional
and legal matters
·
Continuous
decentralization and lack of coordination
·
Improper
planning laws
·
Inappropriate
and restrictive land rights laws
 Climate-change
effects
·
Diminishing
green areas
·
Disappearance
of wetlands
·
Congestion
of urban areas
·
Absence
of waste disposal systems
·
Deforestation
of nearby countryside
Mr.
Ahmed Mansour (Habitat International Coalition –
Housing and Land Rights Network—HIC-HLRN) presented the responsibilities and
commitments of governments in the urbanization processes. He focused
participants' attention on the commitments and achievements of states during
the past twenty years of the Habitat II implementation period. He explained how
HIC is concerned about human rights aspects of land in the struggles of people
around the world, and specifically emphasized growing concern over the practice
of forcibly evicting people from their land for large-scale, land-based
investment without adequate reparations. Governments have the duty to respect
all types of tenure, whether formal or informal, registered or unregistered
such customary tenure, pastoralists' use, or for housing in many informal
settlements.
He
further noted the pillars of any urban land policy as reflecting equity of land
access and justice, equality of all before the law, citizenship rights (such as
no discrimination against citizens in service delivery), and public
participation in urbanization and related land-based development activities.
Further, Mansour referred to states' Habitat I and II commitments to innovate
land-value sharing, whereby the state captures increased values to be used in
strengthening local governments' capacities to provide services, prioritizing
those in greatest need. By strengthening and carefully designing the
urban-rural linkage, it should be also possible for rural and peri-urban people
to benefit from the urbanization process.
In
summary the core messages from Mr. Mansour were:
·
The
need to be transparent in land based investments;
·
The
obligation to Protect, Respect, fulfill with all forms of tenure;
·
Equal
treatment of citizens in access to the land;
·
Equity
in land access and value sharing
·
Strengthening
the Balance in the development urban and rural;
·
Slum
upgrading in consultation with holders.
Mr.
Oumar Sylla (director of Global Land Tools
Network—GLTN) offered practical solutions to the above problems as developed by
his organization. He reminded the participants that the lack of tenure security
in Africa emanates mainly because 70 percent of all urban land in Africa is not
formalized; no developed cadaster exists in many African urban centers. To
ensure tenure security, therefore, requires recognizing all forms of tenure
systems. This is what is known as the "continuum of land rights" for which a
working framework has been developed by GLTN. He also emphasized the need to
assist member states to formulate their land policies. Even if there are good
laws, implementation is still a problem due to lack of capacity.
To
address such and other problems raised by panelists, GLTN has developed some
practical tools:
·
The
Social Domain Tenure Model (STDM) to recognize all forms of tenure rights
·
An
integrated approach in urban rural land governance and information system
·
Development
of land information systems/cadaster that helps advance the tenure security
efforts
·
Good
land-based financial mechanisms.
Finally,
the chairperson provided opportunities for participants to give comments and
raise questions. Because of the shortage of time, only four people were given
the chance to take the floor.
One
comment was about the need of political will, in order to realize the Habitat
Agenda. Unless African leaders are committed to the Agenda, it will be futile
to embark on such an endeavor.
The
second question was focused on the interests of the youth. The participant
asked whether there is explicit provision in the Agenda that addresses those
interests.
Another
related observation was that, as African youth tries to engage in business,
financing becomes problematic as banks usually demand to mortgage land or
housing that the young entrepreneur does not actually own. This situation
constrains the role of youth in the urbanization process, unless and until we
create access housing for adequate and secure housing tenure for youth as well.
The
fourth and final comment was observation about the absence of land management
in the Habitat III documents. Land is often exposed to degradation and poor
land management, rapidly depleting the land as a resource.
Photo:
Vice President, Prof. Yemi Osinbajo, SAN, (2nd left), Minister of Power, Works
and Housing, Mr Babatunde Fashola, SAN (left) and Minister of the Federal
Capital Territory, FCT, Mohammed Bello(2nd right) during the Habitat III Africa
Regional Meeting with the theme, "African Priorities for the New Urban Agenda,"
hosted by the Federal Republic of Nigeria at the International Conference
Centre, Abuja, Thursday, 25 February 2016. Source: Lagos Today.