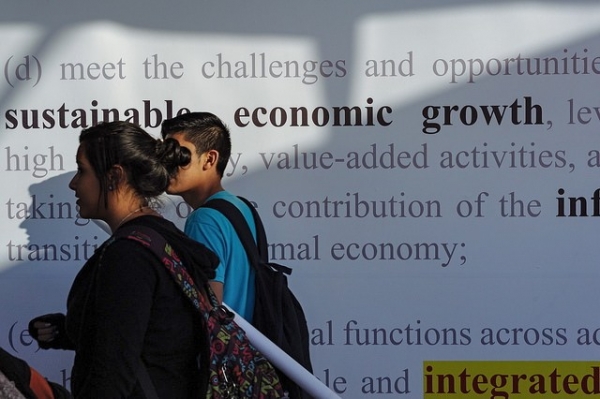 QUITO,
Ecuador — After four intense days of the United Nations' 
Habitat III conference
 on the future of cities, the urban
circus has finally left town. Signs have been taken down, security cordons
removed, temporary bike-share stands packed up and streets reopened to traffic.
The crowds and vendors have left El Ejido Park, where thousands queued and
milled about for a glimpse of the action during Ecuador's first U. N. summit.
Now that the estimated 10,000 foreign participants in the
conference have scattered back to the 167 countries they represented at last
week's conference, an obvious question remains: What's next for the urban
movement?
It's undeniable that the movement for better cities has grown in
the 20 years since Habitat II.
There are new NGOs,
advocacy campaigns, think tanks, city-to-city networks, research institutes,
university programmes, awards and consulting firms. And many of them weighed in
to shape the New Urban Agenda, the urbanization strategy
formally adopted by all 193 U. N.member
states at the conclusion of the conference.
"The urban movement for Habitat III… has
demonstrated the power of collective advocacy and action," Shipra Narang Suri,
vice-president of the International Society of City and Regional Planners, told
Citiscope.
[See: Nations adopt global strategy on sustainable cities,
capping two-year process]
Two decades ago, mayors were not yet connected by United Cities
and Local Governments (UCLG), the world's largest
network of cities. Students couldn't yet study at the London School of
Economics' Cities Programme. Activists couldn't yet call on the "right to the
city" as a legal mandate from Brazil to Ecuador to Mexico City to Saint-Denis,
France. And curious readers couldn't find specialized media catering to the
urban scene, Citiscope among them.
So, as the dust settles from Habitat III, it's time
for reflection from this constellation of civil society actors. Most came
together around the U. N.'s
third-ever human settlements confab because they believe in the urban cause —
including some who still frame it in terms of the 1996 Habitat Agenda. Meanwhile, many of the
new players invested enormous time, energy and resources in the two-year run-up
to the adoption of the New Urban Agenda.
[See: How quickly will governments respond to the New
Urban Agenda?]
They may not be wholly satisfied with the outcome, but the civil
society activists that Citiscope spoke with last week all said they are
committed to encouraging the implementation of the document and the broader
global agenda on urban issues, which includes elements of the Paris Agreement
on climate change and the Sustainable Development Goals.
"The implementation of the New Urban Agenda may not be a legal
obligation of the member states," Suri said at the opening plenary that
included heads of state, ministers and U. N. Secretary
General Ban Ki-moon last Monday, "but it is certainly a moral imperative, a new
moral compact among member states and between member states and stakeholders,
to realize a new urban future, to switch from business-as-usual, to
business-unusual."
She continued, "Let us resolve to use it as a starting point, a
minimum, from where to go forward — not an end goal, a maximum, a finish line."
GAP future
Suri was offered a prime speaking slot at Habitat III because she is also vice-president of
the General Assembly of Partners (GAP), an
umbrella coalition of stakeholders who advocated for specific proposals in the
New Urban Agenda on behalf of civil society. With 16 constituency groups
ranging from youths to older persons, farmers to professionals, indigenous
communities to parliamentarians, they claim to represent the voice of a billion
people worldwide.
The GAP formed in
April 2015 and received institutional and financial support from the Habitat III Secretariat,
which used funds to from the Habitat III Trust Fund
to support travel for the body's constituency leaders to a string of
preparatory meetings in the run-up to Habitat III. This year, the advocacy umbrella explained its
intentions through a document called "Partnerships for the New Urban Agenda."
[See: Habitat III stakeholders
offer vision of broad partnership for sustainable urbanization]
Yet the GAP suffered
setbacks over four months of political negotiations, which refined the New Urban Agenda to its final version
last month. They lost two concrete proposals, for a Multi-Stakeholder Panel on Sustainable Urbanization and a U. N. International Decade on Sustainable
Urbanization. The former would have provided an institutional mechanism by
which they could further their advocacy on this issue; the latter would have
helped raise awareness more broadly about the topic.
However, the GAP's "valuable contributions" are acknowledged as part of
the legacy of Habitat III in the
document's "Means of Implementation" section, which suggests that life after
Quito is possible. According to GAP's leadership, that is exactly what they have planned.
"Clearly, this window for engaging stakeholders in the New Urban
Agenda — earlier in its development, from here onwards in its implementation —
must be expanded and further strengthened," Suri told Citiscope.
Part of the GAP's forward momentum comes from its key role in the
conference, where over 30 hours of sessions were dedicated to the lessons
learned from its advocacy efforts within the Habitat III process. The GAP's
leadership also was given an audience with the U. N. secretary-general. In addition, Habitat III Secretary-General Joan Clos acknowledged the group's collective role in a letter and offered institutional support
going forward on behalf of UN-Habitat, the agency of which he is executive director.
[See: Habitat III stakeholders
offer vision of broad partnership for sustainable urbanization]
To that end, the GAP plans to
consult with its membership on preferred future plans, amend its constitution
as necessary, push for inclusion in next year's debate on follow-up and review of the New Urban Agenda and explore how the GAP model can be applied to other aspects
of the U. N. Its leadership anticipates a possible GAP 2.0 by April, when UN-Habitat's
Governing Council meets in Nairobi.
New
leadership
The GAP isn't the
only civil society effort around urban issues with support from UN-Habitat.
Founded in 2009, the World Urban Campaign (WUC) has
slowly built steam as a broad-based coalition of urban actors with a focus on
institutions rather than individuals as members.
On the sidelines of Habitat III, the WUC elected two
new co-chairs, Rose Molokoane of South Africa and Sandeep Chachra of India.
With long backgrounds in the rights of slum dwellers, informal workers and the
urban poor, the duo will bring a strong voice for the developing world to the WUC's advocacy
efforts in a bid to push implementation of the New Urban Agenda.
[See: Bridging the GAP: The Habitat III strategy
'is an agenda affecting grass-roots people']
Noting the relative lack of implementation for the outcomes of
the first two Habitat conferences, Chachra, executive director of
ActionAid India, told Citiscope, "These things can be lost if there isn't an
active body mobilizing around it, creating momentum, holding governments to
account, raising a public debate and offering solutions."
Solutions have been the WUC's stock in trade as of late, including through the
presentation during Habitat III of 164 "urban solutions" that came out of an open call
this year. These ideas, which draw on the collective knowledge of the WUC's
partners, build on the series of self-organized events ahead of Habitat III known as Urban Thinkers Campuses, dozens of which took place all over the
world.
Those gatherings — which ranged from a tea party in Vancouver to a
street party in Recife to a formal conference in New York — contributed ideas
to "The City We Want 2.0", a civil society
manifesto delivered in time for the drafting of and negotiations over the New
Urban Agenda.
[See: Unified stakeholder vision on sustainable
urbanization lauded, critiqued ahead of Habitat III]
The WUC has some
concrete plans for the coming year. For instance, there is expected to be a
call for another round of Urban Thinkers Campuses, focused on implementation,
early next year. The idea is that those events will be designed to conclude
ahead of World Urban Forum 9, which is to take place in Kuala Lumpur in February 2018 and is being seen as a key milestone
post-Quito.
For Molokoane, who leads a grass-roots women's group affiliated
with Slum/Shack Dwellers International, WUC's goal is to generate "projects that will showcase the
New Urban Agenda as a real document."
Such a demonstration would throw down a gauntlet on the implementation
question and, ideally, push national governments to do their part. "Our aim is
not just to monitor the policies and how the member states are taking this
document back to their offices," she said. "Our aim is to show what is it that
this New Urban Agenda is planting on the ground. The people are there in need
of solutions."
Outside
pressure
Not all civil society actors who advocated in the Habitat III process are comfortable working inside
the system and with institutional U. N. support, however. The proliferation of
alternative and parallel events to the official conference was evidence of this
approach, especially the Habitat III Resistance
forum held at the Universidad Central de Ecuador.
At the four-day event inside the university's School of
Architecture and Urbanism, participants engaged in discussions of land rights,
forced evictions and building materials for the rural poor — topics less common
at the urban conversation just a few kilometres away inside the U. N.- sanctioned
Habitat III conference. Leftist students in
T-shirts and indigenous activists in traditional clothing mingled for
demonstrations of adobe brickmaking and low-cost emergency shelter for
responding to disasters such as April's earthquake that devastated Ecuador's
coast.
[See: Alternative forums to offer urban visions outside of
Habitat III]
The scene recalled the focus on individual human-settlement needs
that dominated the Habitat I conversation 40 years ago, when the
emphasis was on making rural lives viable in the face of urbanization. While
Habitat III Secretary-General Clos said Wednesday
that such an approach was misguided because millions of people moved to cities
in the two decades after Habitat I took place in Vancouver in 1976, one of the
organizers of Habitat III Resistance, Álvaro Puertas, retorted, "Did they move to live or to suffer?"
Puertas is the general secretary of Habitat International
Coalition (HIC), a group that has watchdogged the
outcomes of the Habitat conferences for four decades. Although it is a
registered NGO at the U. N., where
it regularly presents reports of land and housing rights violations, it chose
not to participate in officially sponsored Habitat III processes such as the GAP. At the
alternative forum, representatives from over 36 countries adopted a People's
Habitat Agenda as an alternative to the New Urban Agenda.
"We agreed on the need to have that habitat approach instead of an
urban focus," Puertas told Citiscope against a backdrop of drums and flute as
several dozen people danced and sang in a "madre tierra" (Mother Earth)
ceremony led by an indigenous priest as the alternative forum came to an end.
"They all acknowledge that having only an urban approach is going
to really violate their rights to land, especially those living in rural
areas," Puertas said. "Why are we only presented a single urban future but not
other options? All these people are here to claim for that."
[See: So how do we implement the 'right to the city',
anyway?]
As the group moves forward, Puertas said, HIC intends to support "people's Habitat
committees" — already present in Argentina, Bolivia and Mexico — in order to
agitate for these baseline issues, as well as new topics that the New Urban
Agenda does not include.
"There are positive aspects with the new agenda, but there are
plenty of things that are missing," Puertas said. "Not only the previous Habitat commitments but all the things that have changed
in the last 20 years. For instance, war and occupation is something that is not
clearly discussed or included in the new agenda."
Right
to the city
One component of the New Urban Agenda that is missing from its
predecessor and meets HIC's approval is the "right to the city". The inclusion of
those four words is thanks in no small part to the Global Platform for the Right to the City, an
international network of advocates who pushed for member states to include the
concept in the document.
That effort also will continue into the New Urban Agenda's
implementation phase, drawing on national committees that already have formed
in Colombia, India and Kenya. The platform also intends to launch an
issue-oriented campaign — for example, on how equitably improving public space
is a form of urban development in line with "right to the city" principles.
[See: Historic consensus reached on 'right to the city' in
New Urban Agenda]
"At the international level we plan to follow the process of
internationalizing the right to the city, especially in the global human-rights
system, by promoting dialogues with the U. N. Office of the High Commissioner on Human
Rights," said Nelson Saule, the platform's coordinator and a lawyer at the São
Paulo-based Pólis Institute. "The debate continues whether the right to the
city already exists as a collective right based on international human-rights
treaties, or is it necessary to have some kind of international norm on this
right."
While Habitat III advocates
have differing views about the why and the how of what comes next, they all
seem committed to staying engaged. As HIC's Joseph Schechla said, "As in most things, like
policies, laws or college degrees, the new agenda will only be as good as its
partners make it."
Photo: Habitat III participants walk past wall displays of text from the New Urban Agenda. Quito, 18 October. (Habitat III Secretariat)