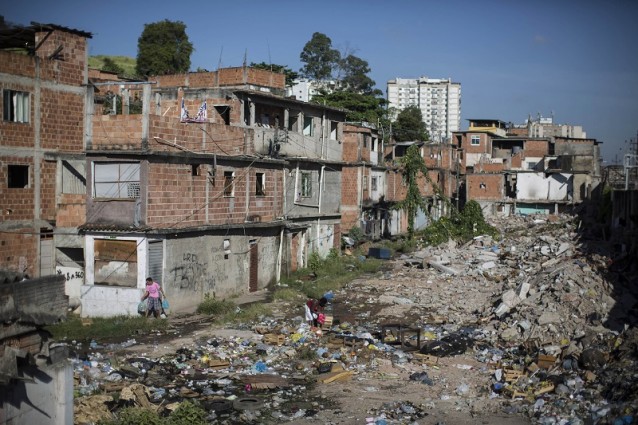 Streets through the
Favela do Metrô, outside the Estadio do Maracanã in Rio, are lined with trash
after residents were evicted in part to make way for World Cup and Olympic
infrastructure.
Is the mass relocation of Brazilian
families out of slums in cities like Rio de Janeiro and São Paulo aimed at
improving their lives and protecting them from danger or meant to pretty the
country's face before it hosts the World Cup in 2014 and the Summer Olympics
two years later?
That's
a question increasingly facing Brazilian officials, who have acknowledged, according
to the Associated Press, that the government has relocated more than
15,000 families from favelas across the country. By the time the Olympics
arrive, that number could rise to more than 100,000, and while a small number —
fewer than 300 — will be relocated to make way for Rio's Olympic Village, the
government maintains that the vast majority are being moved out of dangerous
and disaster-prone areas. Human rights organizations like Amnesty
International, however, dispute those claims, saying that Brazil is moving
families to places where they are worse off and doing so without proper
compensation, the
AP reports:
City officials have in the past acknowledged that
some 15,000 families were resettled, but insist the moves were done to remove
people from areas prone to deadly mudslides and had nothing do with the World
Cup or Olympics. The office of Rio Mayor Eduardo Paes confirmed that in a
statement, saying it "is not and will not carry out any resettlements"
connected to the World Cup.
Amnesty
International Brazil paints a different picture, saying 19,200 families in and
round Rio have been pushed out of their homes since 2009. An advocacy group for
affected slum residents called the Popular Committee for the World Cup and Olympics
estimates that 100,000 have or will be moved.
Brazil
has enacted major public policy initiatives to help its poorest residents in
recent years, and improving life in the favelas is a worthy goal too. But it
seems obvious that pre-World Cup and Olympic efforts to relocate Brazilians and
clean up the slums aren't aimed at helping the poor but instead at putting on
the right show for the world. Many of the evictions are creating room for
infrastructure projects meant to serve the World Cup and Olympics — one Rio
favela, as Sports Illustrated's Grant Wahl has reported,
will soon be demolished to make room for a parking lot at the Maracanã, the
iconic Rio soccer stadium that will host the World Cup final. Brazilian
officials have admitted that others will make space for new
redevelopment zones that
include shopping malls and cinemas.
In
some instances, relocated Brazilians have been offered homes in
newly-constructed complexes, but even then many of them are in parts of the
city far
away from where they work or
have lived for most of their lives. The other option, according to accounts, is
to accept a lump sum payment that likely won't cover the cost of renting new
homes in Rio's increasingly expensive housing market. The negative effects of
relocation are only worsened by the fact that many of the infrastructure
projects meant to improve life in the favelas and serve poor Brazilians have
been delayed or canceled as the country rushes to complete stadiums instead.
And
then there's pacification, the ambitious government plan aimed at reclaiming
control of the slums from drug gangs and other organized groups. While the
government touts that some of pacification's effects have been positive — it says
the program has reduced crime and improved living conditions in some favelas —
it has undoubtedly come with major costs and concerns, not least of which is
the massive police presence that has accompanied it. Amnesty International has
highlighted the
downsides of pacification, saying that the police have treated
favela-dwellers writ large as suspects, "engag[ing] in arbitrary frisks without
cause" and raiding homes without warrants. In some instances, the organization
wrote, the pacification program has worsened crime rather than improved it.
Widespread police brutality and overreach was one of the major
complaints raised last
summer in the massive protests that swept the country, during which the case
of Amarildo de Souza, who disappeared from a Rio favela and whose
death was later blamed on police, rose to prominence.
Meanwhile,
as the World Cup approaches and poor families are forced to leave, many favelas
are now opening
up to tourists who
either can't afford expensive Rio hotels or are searching for the "authentic culture" of "the real Rio
de Janeiro." The controversies around relocation and pacification, however,
should force questions to organizers and government officials alike about
whether that authentic Brazil should be one in which the poorest residents will
continue to feel the negative effects brought on by these sporting events long
after those tourists are gone.
* To read this news from its
original source, click here.