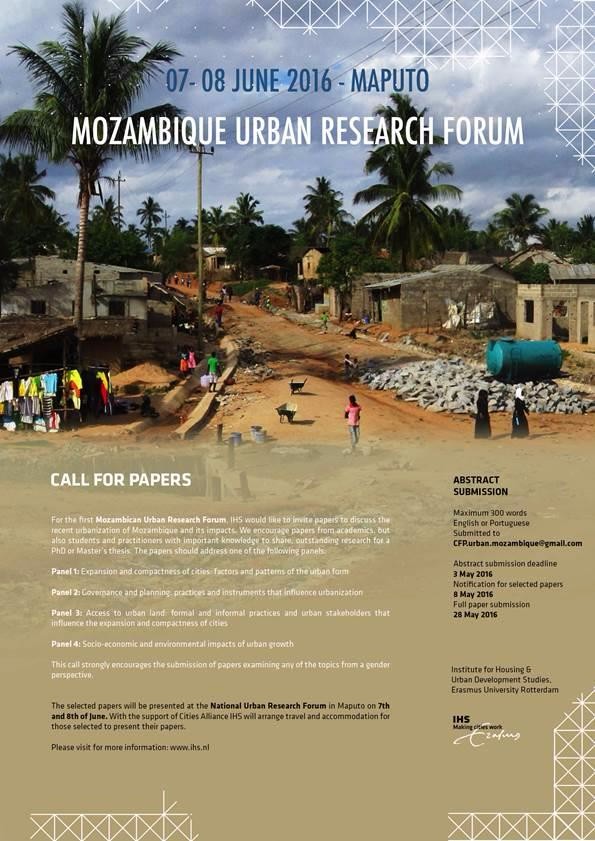 Call for Papers
Mozambique Urban Research Forum
07 – 08 June Maputo

A research project has been developed by
IHS, on behalf of Cities Alliance, with the purpose of filling crucial
theoretical and evidence gaps related to the comparative merits of
planned expansion and density, by collecting and analyzing data on
cities and urban land expansion in Mozambique, as well as testing the
relevant theories/models and feeding the results into the current
academic and policy debates at the national and international level.
This research project entitled, "The urban expansion and the compactness
debate in the context of Mozambique", has as main research question the
following: "In a resource-scarce context, such as in Mozambique, what
would be a good balance between making room for land expansion while
following the compact city approach? What hybrid model could lead to
more sustainable yet at the same time, inclusive, well serviced and
affordable cities?"
The indicated research question can be
addressed both from a national as well as from an international
perspective. However, the clear focus of the research is to inform the
national research community in Mozambique on the state of the arts in
the areas of urbanization and urban development.
This theme will be the focus of the discussion at the FUN-P in Maputo from 7-8 June.
This is an invitation to the national and international research community and it is not limited to academics alone. Students and practitioners with important knowledge to share, outstanding research for a PhD or Master's thesis, are invited to submit a proposal. Selected papers will be
presented during the National Urban Research Forum (FUN-P). With the support of Cities Alliance, IHS will arrange travel and accommodation for those selected to present their papers.
To read the entire call for papers, please click here.