World
Habitat Award winner 2011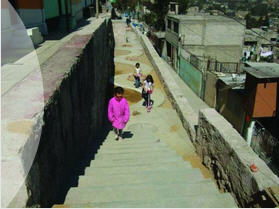 This report presents the outcomes of our study visit
to 2011 World Habitat Award winners PCMB, Mexico.
It highlights the key features of this
community-driven neighbourhood improvement programme and also the key learning
points and reflections from the study visit, which was attended by participants
from 13 different countries.
The Community Programme for Neighbourhood Improvement
(PCMB) was established in 2007 by the Social Development Secretariat (SDS) of
the Federal District government of Mexico City. It uses a participatory
approach to improving public spaces in informal settlements and low-income
neighbourhoods, particularly those with high levels of social conflict,
marginalisation and/or urban decay. Projects developed through the programme
include illumination and paving of streets, provision of recreational,
community and sports facilities, rain collection and drainage systems and small
parks.
* More information
about the PCMB programme and about the study visit.
Building and Social Housing Foundation Memorial Square · · · Coalville
Leicestershire LE67 3TU · · United Kingdom
Tel: +44 (0) 1530 510444· Fax: +44 (0) 1530 510332· Email: bshf@bshf.org· Web: www.worldhabitatawards.org
Charity Number: 270987 Company
Number: 1247918