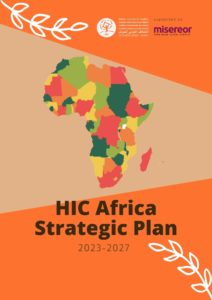 For the first time in the history of HIC, Members in the African region came together last year 2022 to develop this regional strategic plan.
HIC Members in Africa identified the need for a common regional strategic plan to better coordinate priorities, mobilize resources and implement joint action to fight for the recognition, defense and full implementation of human rights related to habitat.
Over the years several drafts were created and ideas shared sub-regionally. However the region had not yet developed a joint strategic plan that would effectively unite and align Members' priorities and actions.
The process to develop a regional strategic plan gained momentum with the appointment of the HIC Africa Regional Coordinator in May 2022, and funding support through the HIC General Secretariat committed to this purpose. Africa Members decided that an in-person workshop would be most effective and in a regional online meeting in July 2022 eight HIC Africa members volunteered to be part of a working group that would develop the strategic plan.