v\:* {behavior:url(#default#VML);}
o\:* {behavior:url(#default#VML);}
w\:* {behavior:url(#default#VML);}
.shape {behavior:url(#default#VML);}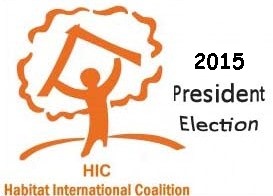 HIC President
Electoral Process 2015
August
18, 2015
To
Electoral Committee, HIC Members and Friends

Re: Letter of acceptance and
motivation for the nomination as President of Habitat International Coalition
2015-2019
Dear Friends,
As you know, my name has
been proposed by HIC Members from Argentina, Ivory Coast, Peru, Switzerland and
the United Kingdom to assume a second mandate as HIC President for the period
November 2015-November 2019.
I would like to express my
sincere gratitude for the confidence and support that many of you have
expressed. This represents of course a great honor and a huge responsibility,
given our Coalition trajectory and the relevant challenges that civil society
organizations are facing in today's world.
During the past four years,
I have been working hard to promote a truly collective leadership, enhancing mutual
collaboration, diversity and creativity as well as intergenerational dialogues
among Staff, Members and Allies; strengthening networking and capacity building
for a stronger voice in the defense and realization of the human rights related
to habitat; and sharing HIC views and proposals to a broad range of actors,
from local communities, activists, students, academics and professionals to
public officials and multilateral agencies.
It is clear that we still
have a long and winding way to go.
The preparation of HIC´s 40th
anniversary in 2016 should be the perfect occasion to revisit our organization
history, learn from those who have been part of that path for several decades and
engage the new generations in the discussion on the expectations and the road
ahead.
At the same time, HIC has,
no doubt, a strong role to play in the process towards the Third UN Conference
on Housing and Sustainable Urban Development (Habitat III) to be held in Quito
in October next year, both evaluating the implementation of the commitments
from Habitat I (Vancouver 1976) and Habitat II (Istanbul 1996), as well as
participating in the definition of the goals and monitoring mechanisms for the
so called "New Urban Agenda", from the local to the international level.
Our inside-outside strategy
regarding major official events and the perspective of a Social Urban Forum and
People's Habitat Committees, should guide our efforts to build stronger and
wider alliances, mobilizing our Members and Partners and bringing visibility
and solidarity to the social movements that are denouncing the commodification
of the common goods and fighting to create democratic, just and sustainable
communities for all.
It is clear that those and
other related challenges require a big team effort. I am ready to assume this
second mandate with all my skills and energy, trusting that you are willing to
be part of that.
Fraternally
yours,

Lorena
Zárate
Normal
0
false
21
false
false
false
ES-MX
KO
X-NONE
/* Style Definitions */
table.MsoNormalTable
{mso-style-name:"Tabla normal";
mso-tstyle-rowband-size:0;
mso-tstyle-colband-size:0;
mso-style-noshow:yes;
mso-style-priority:99;
mso-style-parent:"";
mso-padding-alt:0cm 5.4pt 0cm 5.4pt;
mso-para-margin:0cm;
mso-para-margin-bottom:.0001pt;
mso-pagination:widow-orphan;
font-size:10.0pt;
font-family:"Times New Roman","serif";
border:none;
mso-ansi-language:ES-MX;
mso-fareast-language:KO;}