For
tens of thousands of renters, life has become increasingly unstable in recent
years, even as the economy has slowly improved. Middle-class wages have
stagnated and rents have risen sharply in many places, fueled by growing
interest in urban living and a shortage of rental housing. The result is a
surge in eviction cases that has abruptly disrupted lives, leaving families to
search for not just new housing that fits their budgets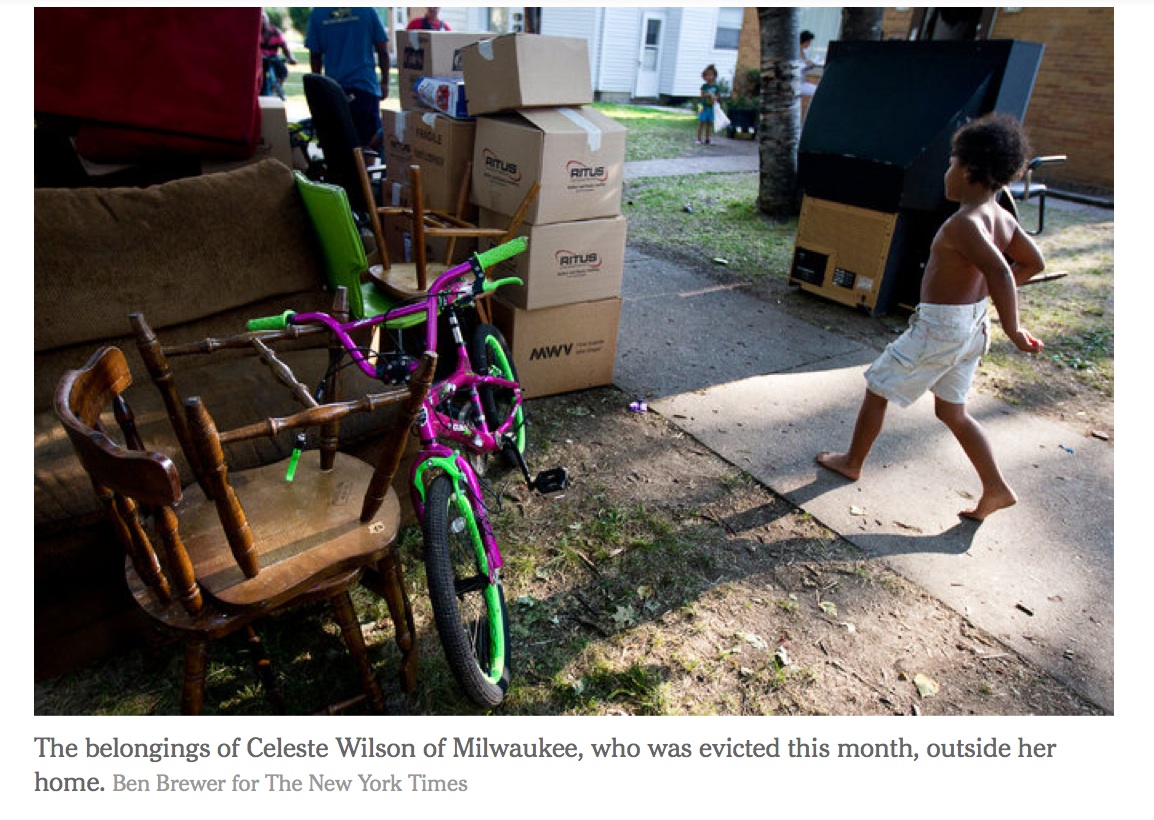 but new schools, new bus routes and sometimes new jobs.
In
Milwaukee County, for instance, the number of eviction cases filed against
tenants leapt by 43 percent from 2010 to 2013, according to figures gathered by
the Neighborhood Law Clinic at the University of
Wisconsin Law School. Other parts of the country have seen similar, if less
drastic spikes — and not only in high-cost cities like San Francisco.
Landlord-tenant
laws and housing market conditions vary widely, and evictions are not surging
everywhere. And a court filing does not necessarily result in eviction; some
cases are resolved through payment plans or other agreements. But from 2010 to
2013, Maine experienced a 21 percent increase in eviction filings,
Massachusetts 11 percent and Kentucky 8 percent. In the fiscal year that ended
in June, New Jersey, which has some of the strongest tenant protections in the
country, had one eviction filing for every six renter households. In Georgia,
where court statistics do not differentiate between tenants evicted by a
landlord and homeowners evicted after foreclosure,
filings soared to almost 270,000 last year, a 9 percent jump since 2010.
Over
the same period, according to the research firm CoreLogic, the number of
foreclosures dropped by half.
Perhaps
the simplest explanation for the rise in evictions is a severe shortage of
rental housing caused by a lack of new construction during the recession and
the wave of foreclosures that turned homeowners into renters and occupied
housing into abandoned blight.
A
vast majority of renters live in cities, but evictions are not limited to urban
settings. Rural areas like western Oklahoma, where an oil and gas boom has
increased demand for housing, have also seen an increase in eviction filings.
* To read the full article, please click here.