This year's meeting of the HLPF (6 – 15 July 2021), will take place under the auspices of the Economic and Social Council, discussing ways to ensure a sustainable and resilient recovery from COVID-19 in order to realize the 2030 Agenda.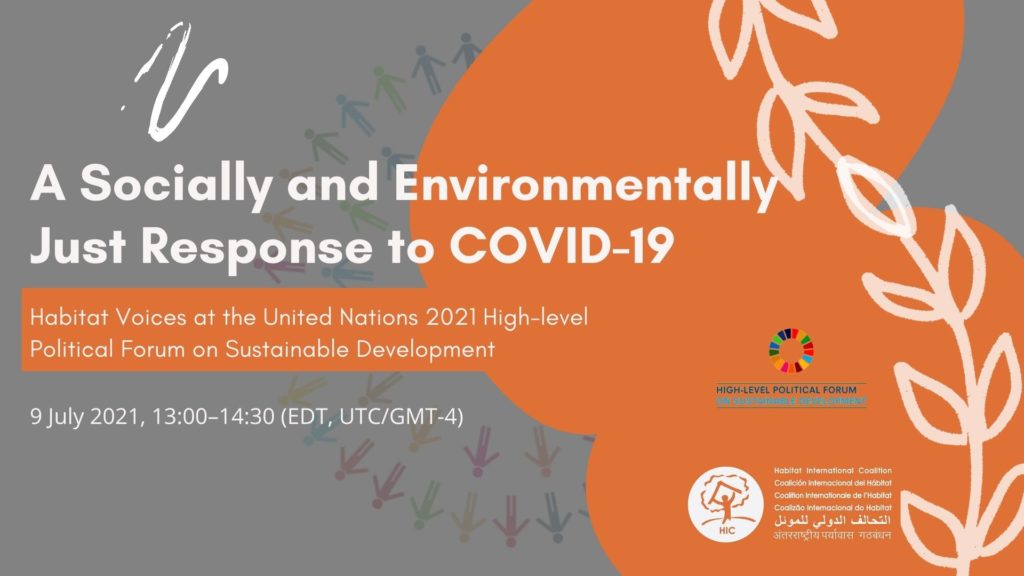 The theme is "Sustainable and resilient recovery from the COVID-19 pandemic that promotes the economic, social and environmental dimensions of sustainable development: building an inclusive and effective path for the achievement of the 2030 Agenda in the context of the decade of action and delivery for sustainable development". 
In this side-event HIC will present and launch a collective manifesto that highlights how responses to COVID-19 and its consequences can and need to uphold habitat-related human rights and build a socially and environmentally just present and future. 
HIC Side-Event at HLPF 2021 
Habitat Voices: A Socially and Environmentally Just Response to COVID-19
9 July 2021, 13:00–14:30 (EDT, UTC/GMT-4) or at this local time 
Send an email to the gs@hic-net.org and we will share the link for this meeting
The Habitat Voices Manifesto