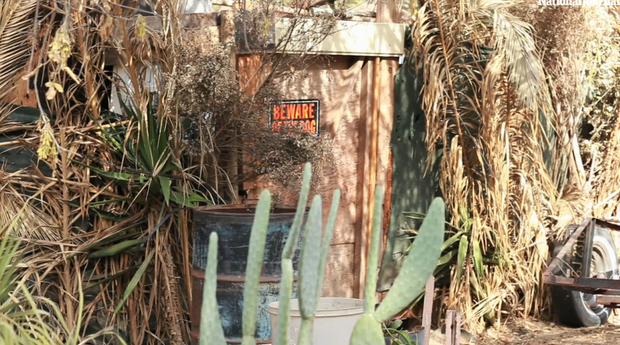 SAN JOSE, Calif.—Living in "The Jungle" means learning to live
in fear. Especially after dark, when some people get violent. The 68-acre
homeless camp in South San Jose is considered the largest in the United States.
It's a lawless place.
"When something goes wrong,
you have to have some kind of backup," says Troy Feid, pulling out a
machete that he carries up his sleeve at night. "Just having it says
'Don't mess with me.' 
"Feid, an unemployed union carpenter, lives in a fortress of netting and plastic
tarp with a cat named Baby. He's one of the 278 people who've claimed a spot in
the thicket of cottonwood trees along Coyote Creek. He first moved here four
years ago when he ran out of work.
The 53-year-old carpenter made good money at the height
of the Silicon Valley construction boom in the 1980s and '90s. He built movie
theaters and installed ceilings in the new offices of high-tech companies that
put San Jose and the rest of Santa Clara County on the map.
"All the buildings around
here, you know, I probably worked on them," said Feid, who was making up
to $35 an hour in those days. Then came the dot-com crash in 2000, bankrupting
dozens of Internet companies and drying up construction work. Feid lost his
apartment and bounced around for years, living in people's garages as he
remodeled their homes. In 2009, a friend kicked him out and Feid found himself
on the streets. All he had was his motorcycle and a few tarps.
"You build everything up …
then you lose your job and then everything falls apart again," Feid said.
"At least here in the creek you know what your status is."
The number of people living in the
camp has tripled since Feid first moved in. The Jungle now has a
Spanish-speaking section, and up the creek is the Vietnamese enclave known as
Little Saigon. The explosive growth has led to more violence and filth. Dogs
rummage through heaps of garbage and human waste.
"It's disgusting now,"
said Feid, who makes a bit of money fixing generators for other residents to
power their cell phones and televisions. The $200 he gets each month in food
stamps covers most of his meals, and the rest he gets from dumpster diving. He
points to two garbage bags next to his bedroom door filled with expired Power
Bars and Chex Mix.
"I got the hookups," he
says proudly. "Right when it outdates, they have to throw it out."
Feid's days in The Jungle are
numbered. Next month, the city plans to bulldoze his fortress in a final
attempt to clear the encampment. The city has done so many times in the past 10
years, only to watch it come back to life. This time, they have a different
strategy: finding permanent housing for two-thirds of the camp's residents and
subsidizing their rent for a year or two. There's just one big problem: It's
nearly impossible to find an apartment for less than the county's average
monthly rent of $2,128.
The current tech boom has made
Silicon Valley one of the wealthiest and fastest-growing regions of the
country. That has created one of the country's most expensive rental markets,
pushing low-wage workers out of Santa Clara County or onto the streets.
"You need to work five
minimum-wage jobs to afford to live here," said Jennifer Loving, executive
director of Destination: Home, the public-private partnership to end
homelessness in Santa Clara County. "No one can do that. That right there
creates a huge income disparity."
This year, San Jose and the
surrounding county surpassed Los Angeles as having the country's highest rate
of homeless people living on the streets, according to the annual homelessness
assessment report from the U.S. Housing and Urban Development Department.
Three-quarters of the area's 7,567 homeless residents are from Santa Clara
County. Most of them live in one of San Jose's 247 tent cities, just miles from
the sprawling headquarters of Google and Apple.
Many residents of The Jungle suffer
from mental illness, drug addiction, and physical disabilities. Others end up
there after losing their jobs. Some still go to work every day at nearby
restaurants and stores. In March, the city of San Jose agreed to set aside $4
million to help 200 of the 350 residents find a place to live. So far, 125
people have moved out. Another 50 have been approved for the subsidy program,
but can't find a place for that price. The rest will need to find another place
to sleep.
"It's a very challenging
environment," said Ray Bramson, homelessness response manager for the city
of San Jose. "We have an extraordinarily high cost of living and a lack of
jobs that pay a basic self-sufficiency."
One of the people who got approved
for the subsidy program is Robert Aguirre. The unemployed tech worker and his
wife got a $900-a-month housing voucher from the city, but they can't find a
place to move in. They've submitted rental applications for more than 20
apartments, he said, but the waiting lists are up to two years long. Aguirre
and his wife have been living in a tent at the entrance to the The Jungle since
February. They ended up here after trying to move from a two-story apartment to
a one-floor place to accommodate his wife, who is disabled. But the landlord of
the apartment they found turned them away at the last second, and by then,
their old apartment had already been rented out.
"So we started sleeping in a
car because we really had nowhere to go. So that's what brought us here basically,"
said Aguirre, who moved to San Jose from El Paso, Texas, in the 1970s.
He dreamed of working in the
electronics industry and landed an internship at a research lab for IBM, which
was designing and building the world's first computers. Aguirre went on to work
other jobs at several high-tech companies in the area before starting his own
consulting business, which handled the product approval process for many
high-tech labs. That all came to an end in the late 1990s, when companies moved
their factories and product approval jobs to cheaper countries in Asia.
Aguirre's business went out of business.
"I've had problems ever since
then to find that type of work," said Aguirre.
His wife, who works as a medical
clerk, makes too much money for them to qualify for welfare, and not enough
money for a market-rate apartment. The city needs to find another way to help
its homeless residents, because most of them will not find housing before the
Dec. 1 deadline they have to leave The Jungle.
"There are a number of people
with a number of problems and the city is only offering one solution,"
said Aguirre. "If you have a broken arm and all you're offering is a
Band-Aid, then it's not a good solution."
Since moving to The Jungle, Aguirre
has become an outspoken advocate for the homeless. He organized a protest in
August after the city posted a notice giving residents three days to clear out
of the camp. The protests caught the attention of local media and the city
backed off. Aguirre has spoken up at City Council meetings and helped persuade
officials to install portable toilets in the camp.
He is also one of many homeless
advocates who pushed for the passage of a housing impact fee, which will
require apartment developers to pay a $17-per-square-foot fee for the city to
build more affordable housing. Advocates have been fighting to create the fee
since 2012, when Gov. Jerry Brown dismantled local redevelopment agencies that
had provided cities with millions of dollars to spend on affordable housing.
Santa Clara County alone faces a
$222 million gap in annual funding needed for affordable housing, according to
a 2013 analysis by the Housing Trust of Silicon Valley.
Despite outcry from the powerful
Building Industry Association, the city of San Jose on Tuesday voted to
establish the housing fee.
It was a small but important
victory for advocates of affordable housing in Silicon Valley—advocates like
Matt King, an organizer for Sacred Heart Community Service, which lobbied for
the fee.
"In a few years we will be
able to start building hundreds of homes for working families with the money
the fee raises," King said. "But it's only the first step in
addressing a huge housing crisis in Silicon Valley."
For one, it doesn't solve the more
pressing problem: More than 200 people living in The Jungle still don't have a
place to live, and the city still plans to clear the camp the first week of
December.
That means social workers are
running out of time to help those who still remain. On a recent Friday morning,
Jessica Orozco and her colleagues from Downtown Streets Team visited the camp
to check on some of the people they are working with on the city's behalf.
They pass a man sitting outside a
tent with his cat.
"The city says they're going
to close this place down the first week of December," one of the social
workers told him. "Pass the word around."
They ring the doorbell outside
Feid's fortress to see if he's getting ready to move. They found him a studio
apartment downtown and it's ready. Feid is torn about what to take with him.
After a lifetime repeatedly losing everything he loves, it's hard to let go of
the little he has left.
"I'm kind of insecure. But
what can you do?" he says. "It's definitely good to have [the studio]
because I hate the sweeps. You sit there out on the sidewalk with all your
junk, looking which way to go."