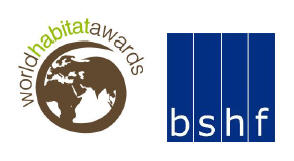 World Habitat Awards 2014: Call for entries from housing projects
The annual World Habitat Awards recognise innovative and sustainable
solutions to housing challenges around the world. Entries are now open for the
2014 competition.
Previous winners range from projects delivering environmental
sustainability to others focused on the scaling up of innovative practices. Full
details of previous winners and finalists are available on our website. 
Darinka Czischke, BSHF's Director said: "The World Habitat Awards are a
great way of identifying and celebrating good practice in housing worldwide.
Previous winners have included projects which really demonstrate the wider
benefits of good housing, for example health improvements or energy saving.
"For the winners, the benefits include receiving international
recognition for their innovative practices and a cash prize of £10,000, as well
as a trophy. Winning projects also have the opportunity to transfer their
award-winning approach through peer-exchange activities sponsored by BSHF."
Housing projects which demonstrate practical, innovative and sustainable
solutions to current housing needs are invited to submit their entries via the
World Habitat Awards website . Entries must be
received by 1st November 2013.
Notes
for Editors
For further information please contact: Isobel Ashford, Head of
Communications 
email: isobel.ashford@bshf.org, tel: +44 (0)1530 510444