This text is based on a recent statement of HIC Board Representative of Women's and/or Feminist Movements  Ana Falu
Celebration of our Coalition's achievements on gender equality and equity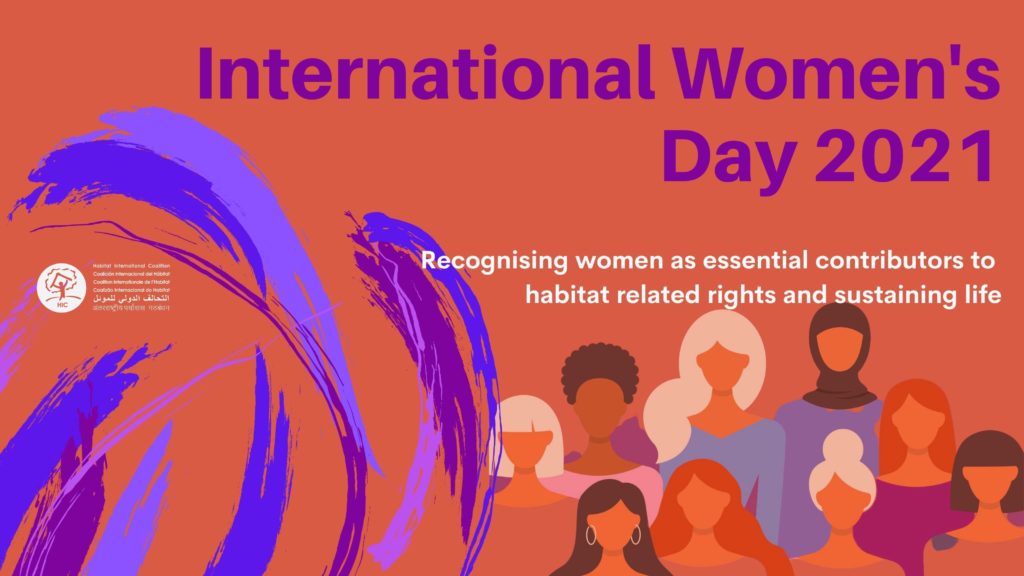 This year International Women's Day is framed by a year defined by the pandemic, but also by  the many challenges that we, as HIC, have overcome globally, regionally and locally.
On this day, we celebrate that the HIC  Board has incorporated a Representative of Women's and/or Feminist Movements, and the momentum of the African region to restablish the HIC Women and Shelter Group that has a long story in HIC. This is to continue the ongoing work done by HIC in the 1990s and to recognize its extensive ongoing work in a number of countries in Africa on Women, Land and Housing Rights with the Housing and Land Rights Network. Also, in Latin America, the  Coalition remains strong and active with the Women and Habitat Network that expressed its will during the recent HIC Assembly to strengthen links all around the world with the intent  to advocate within HIC and from HIC to the world on the right of women´s, girls and diversities. 
HIC also celebrates  having two committed women leading our Coalition : Adriana Allen, HIC President and Yolande Hendler, HIC General Secretary. 
Recognition of the key role of women 
Beyond HIC we can highlight the enhancement and advance of feminisms all around the world. We are strongly working through different grassroots organizations, regional networks, international alliances in different continents to assure women's rights to land, to water, to infrastructure, to services, the right to cities, the right to live a life without violence and  equal rights and opportunities for women and men. 
On this day we recognize the diversity, of age, ethnicity, cultures, religions, capacities, and engagement from women, essential pillars to sustain life as every human being needs other people to take care of him/her at some point, and this is a work that has historically been carried out by women. Let's recognize women as contributors to development mostly without the means and the recognition for their work and contributions. 
Challenges ahead in the face of the current pandemic 
It cannot be ignored that twenty-five years since the adoption of the Beijing Declaration and Platform for Action, no country has achieved gender equality, and the COVID-19 crisis threatens to roll back the little progress that has been made. 
The pandemic has made visible pre-existing inequalities, regarding gender equality we can see 3 decisive dimensions expressed in each territory and population: 
Violence against women and girls remains a global issue.

During COVID-19 lockdowns, many women and girls

suffered and continue to suffer even more violence locked

in unsafe environments where they are at heightened risk of experiencing intimate partner violence.

According to the U

N

, "around one third of women worldwide have experienced physical and/or sexual violence by an intimate partner; and 18% have experienced such violence in the past 12 months. In the most extreme cases, violence against women is lethal: globally, an estimated 137 women are killed by their intimate partner or a family member every day."

Women are the caregivers in the home

, according to the

UN report The World's Women 2020: Trends and Statistics:

"On an average day, women globally spend about three times as many hours on unpaid domestic and care work as men (4.2 hours compared to 1.7). In Northern Africa and Western Asia that gender gap is even higher, with women spending more than seven times as much as men on these activities."

The Pandemic has also evidenced that

women are the ones who guarantee life and food

, even amidst  scarcity in their neighborhoods, towns and cities, –  this is the story behind the

Ollas Comunes in Peru and Chile

.
Our Coalition commitment
As a global organisation, HIC  uniquely engages Members and Allies in  the intersection of  housing rights, gender, the environment and social production of habitat. At a time where housing and human rights are being re-prioritised on international agendas, and civil society organisations are seeking a recommitment to housing rights and a bridging of existing dichotomies, HIC plays the critical role of connecting, convening and bridging actors and geographies for joint action. This includes  advancing towards gender equality and equity and putting forward proposals that enable post-pandemic reconstruction based on redistribution and access to human rights.
HIC and its Members are advancing on gender equality