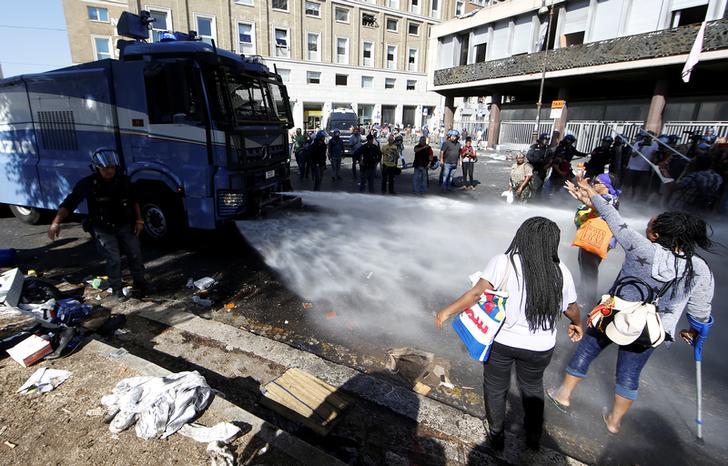 Italian Police use a water cannon as they clash with refugee squatters who had occupied a small square in central Rome, Italy. © 2017 Reuters/Yara Nardi
Rome – Police used violence and water cannons to evict a group of squatters,
predominantly refugees, in Rome on August 24, 2017, Human Rights Watch said
today. The Italian authorities should conduct a serious and transparent
investigation into the use of force by police. Hundreds of people who had been
living in the building on the Piazza Indipendenza urgently need alternative
accommodation.
Without advance notice or alternative
arrangements, police began evicting hundreds of mainly Eritrean and Ethiopian
refugees and asylum seekers from the building on August 19. The majority left
that day. According to the United Nations refugee agency,
UNHCR, about 200 people, 50 of them women, had remained outside the building in
protest, sleeping there. About 100 people, including families with children,
pregnant women, and people with disabilities, remained in the building. Police
arrived in force around 6 a.m. on August 24 to clear those remaining inside the
building and the square outside.
"Italian authorities need
to ask hard questions about this shocking eviction and, in particular, whether
the force used by police was necessary and proportionate," said Judith Sunderland,
associate Europe and Central Asia director at Human Rights Watch. "Using police
in riot gear to force vulnerable people out of their homes with little warning
and nowhere to go is just about the opposite of how things should be handled."
Medici Senza Frontiere (Doctors Without Borders Italy)
said on social media that it provided medical assistance to 13
people and had to call ambulances to take four women to a hospital. An MSF
staff member at the site told Human Rights Watch he had seen the injuries on a
woman's arm and torso caused by blows from a baton.
The police said the
action was "urgent and necessary" because the presence of gas tanks, used for
cooking inside the building, posed a risk, and that water cannons were used to
"prevent fires and flammable liquids from being lit. "Video footage disseminated on social media show
the police pointing the water cannon directly at people, as well as individuals
throwing objects at police officers. The police issued a statement saying that
four people were under investigation for violent resistance, including throwing
a gas canister and rocks at the police.
In the course of the
afternoon, all of those from inside the building were taken to a police
station, while many of those dispersed from the square in front of the building
are protesting near the central train station, not far away. Video published by the daily newspaper La Repubblica shows
police in anti-riot gear chasing demonstrators in the parking lot in front of
the train station, with audio allegedly of the officer in charge saying, "They
have to disappear…if someone throws something, break his arm."
The building was occupied
by squatters in 2013. A court ordered the eviction in December 2016, but no
steps were taken by municipal, regional, or national authorities to organize
alternative accommodation until after the eviction had begun on August 19.
Residents have rejected
alternatives offered over the past few days because they are temporary,
inadequate, or far from their established social networks. Families with
children in school are particularly anxious to remain in the neighborhood, with
the beginning of the school year just two weeks away. In any event, the
alternatives offered would benefit only a small fraction of the hundreds who
had been living in the nine-story building.
Don Mussie Zerai, an
Eritrean priest who has helped to mediate with the authorities on the
residents' behalf, said: "Chasing these people from one place to the next
doesn't solve anything. The government should take up its responsibility to
provide a real pathway for social integration."
The case is emblematic of
the systemic problems with assistance to refugees and integration programs in Italy, Human
Rights Watch said. The Piazza Indipendenza site was one of three large
buildings occupied by squatters in Rome accommodating a total of roughly 3,000
people, many of them refugees and asylum seekers. No one knows how many smaller
buildings are housing refugees in this way.
The UN Basic Principles on the Use of Force
and Firearms by Law Enforcement Officers state that law enforcement officials
"shall, as far as possible, apply non-violent means before resorting to the use
of force and firearms." Whenever the use of force is unavoidable, security
forces should "[e]xercise restraint in such use and act in proportion to the
seriousness of the offence and the legitimate objective to be achieved," the
principles say.
As a party to the
International Covenant on Economic, Social and Cultural Rights (ICESCR) and the
International Covenant on Civil and Political Rights (ICCPR), Italy is legally
obligated to respect, protect, and fulfil the right to adequate housing. This
includes the obligation to respect protections against forced evictions, such
as genuine consultation, reasonable notice, access to legal remedies to
challenge evictions, and measures to provide adequate alternative housing to
ensure that people are not left homeless as a result of eviction.