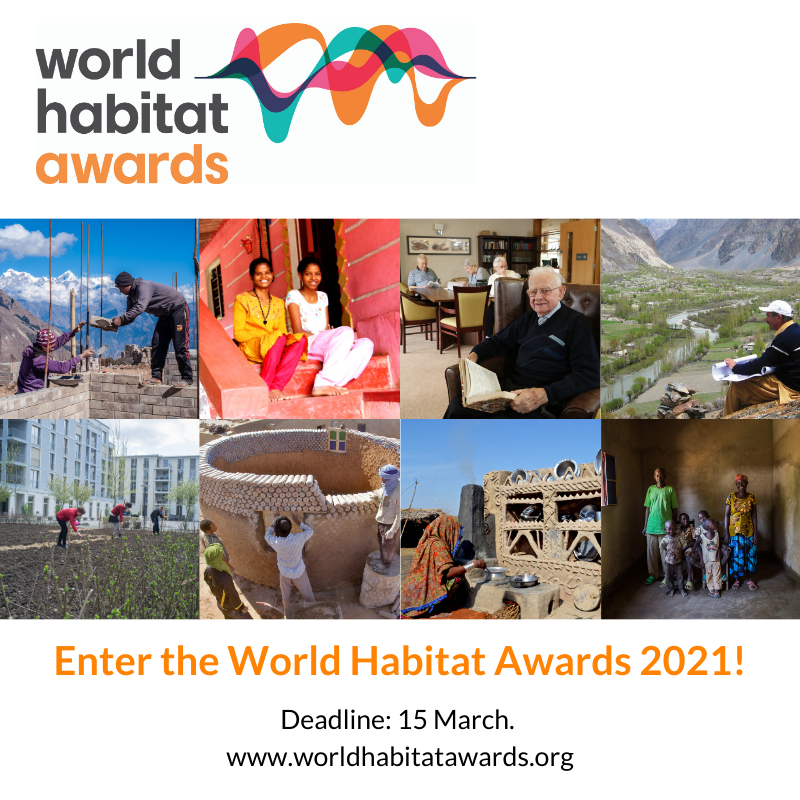 The closing date for entries for the 2021 World Habitat Awards is next Monday 15 March
The World Habitat Awards recognise and highlight innovative, outstanding and sometimes revolutionary housing ideas, projects and programmes from across the world. Organized between World Habitat and UN Habitat this recognition has run for over 30 years awarding pioneering approaches to housing challenges, providing international recognition to exceptional projects and programmes.
Who can apply?
The awards aim to recognize outstanding housing projects having a real impact on people's lives, anywhere in the world. Housing programmes and projects are eligible for this award if they meet this requirements.
How?
You can enter the award in the fillowing link: https://world-habitat.org/world-habitat-awards/how-to-enter/

What is the award?
Two winners of the 2021 World Habitat Awards will receive a Gold Award and £10,000. There will also be Silver and Bronze Awards for other outstanding projects and programmes. In addition, Gold Award Winners will have the opportunity to share their approach to housing solutions through World Habitat's exChange programme.
The Awards remain open for entry until 23:59 GMT on Monday 15 March 2021.
All entries are subject to a thorough assessment process and around 10 projects are evaluated by an independent advisory group of housing experts.
Evaluation visits are made to four projects before recommendations are presented to a panel of external judges, including the Executive Director of the United Nations Human Settlements Programme (UN-HABITAT).