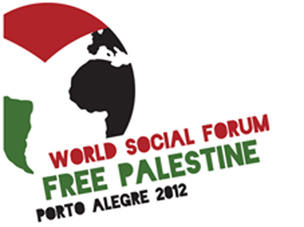 Probably never before have the last weeks of
preparation for a WSF event been marked by such a strong sense of urgency and
importance: Now more than ever we need to stand together, organize and show the
strength of global solidarity with Palestine!
With shock and indignation and a deep sense of urgency, we have followed the
criminal Israeli attacks on Gaza. By repeatedly breaking the truce with
Gaza, Israel has willfully escalated the situation and then launched a military
attack that has once again turned the tiny Gaza Strip – which is since over
five years under an illegal and inhumane siege – into a living hell.
After a week of brutal military attacks, over 150 people have been killed in
Gaza, 1000 people injured and some 10 thousand Palestinians have been
temporarily displaced from their homes seeking refuge in UN shelters, bombings
and missile attacks have been continuous.
In these times, it is the innumerable emergency protests organized around the
globe and as well in South American cities such as Sao Paulo, Buenos Aires, Santiago
and many other places that have sparked of hope and an impressive show of
solidarity.
At a time when the United Nations have been unable to prevent the repeated
attack on Gaza, the global media corporations have broadcasted once again the
propaganda of the powerful – the WSF Free Palestine as a global citizens
assembly is more needed than ever!
We are proud to be able to offer such vibrant, determined and urgent global
solidarity movement the space to show that people all over the world are ready
to stand up against Israeli wars, occupation, apartheid, blockades and walls.
We are looking forward to a powerful mass mobilization here on the ground and
forward leading discussions. We trust this WSF Free Palestine can amplify the
expressions of this global mobilization and reinforce its power and
effectiveness.