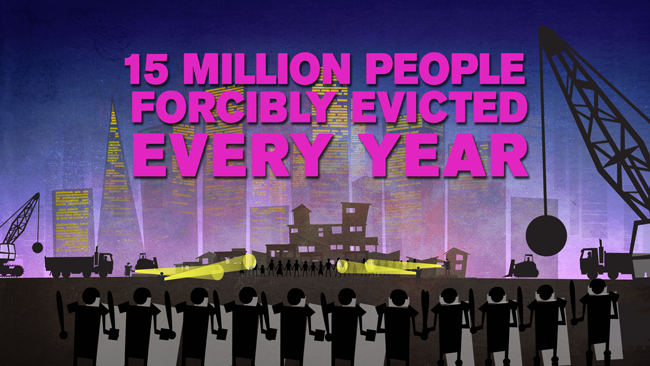 In 2013 Witness celebrated alongside
activists like yourself the big and
small
battles that were won in the global fight for housing and land rights. However,
with nearly 15 million people forcibly
evicted each year—and many governments and multi-national
corporations disguising human rights violations as
"development"—there is still a lot of work to do.
To support this work, WITNESS is excited to release a
multimedia, multilingual Forced Evictions Advocacy Toolkit to help advocates use video to
confront violations and demand justice. In
collaboration with Amnesty International and our partners, we created this set
of resources to strengthen the efforts of activists, social movements and
communities advocating against forced evictions locally and globally, as well
as those working to raise awareness on the issue.
Download the Toolkit
at www.witness.org/campaigns/forced-evictions. There area
limited number of DVD versions available, please email them with
requests.
The resources are available in eight languages: Arabic, English, French,
Italian, Khmer, Portuguese, Romanian and Spanish. Please contact them to assist with additional
translations.
Please help us share the Toolkit! Mention the Toolkit on your blog, note it in
your newsletter, post it on your Facebook page or host a screening! Connect
with Witness on Facebook or @witnessorg to tell them how
you are using the Toolkit.
Don't hesitate to be in touch with questions or feedback!