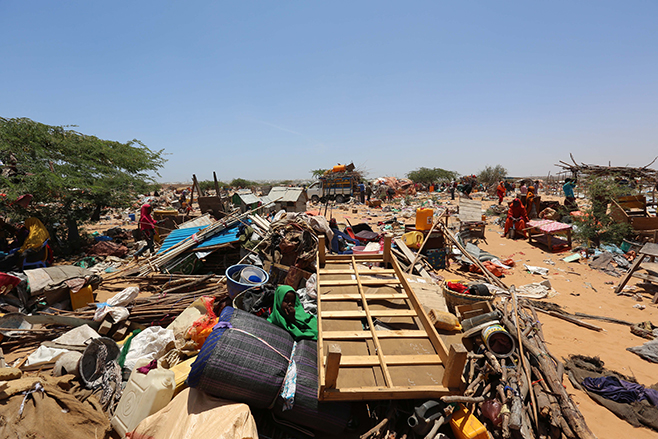 A child surrounded by her family's belongings during the massive forced eviction by Somali authorities of a displaced person's camp in the Kadha (formerly Dharkenley) district of Mogadishu, Somalia on March 4, 2015.
(Nairobi)– Somali state security forces forcibly evicted about 21,000 displaced people in the capital,Mogadishu, in early March 2015.The authorities beat some of those evicted on March 4 and 5, destroyed their shelters, and left them without water, food,or other assistance. Many of those affected had fled their homes during the 2011 famine and fighting, and have been repeatedly displaced since then.
Somali authorities should cease forcibly evicting displaced people in Mogadishu, and adequately protect and assist them, Human Rights Watch said.
"The Somali government has done next to nothing over the last three years to address the miserable and unsafe living conditions for Mogadishu's thousands of displaced people," said Leslie Lefkow, deputy Africa director at Human Rights Watch."Now, instead of providing safe alternative options and much-needed water and sanitation, security forces are violently uprooting them, leaving them homeless and destitute."
IDP camp Mogadishu
Human Rights Watch spoke with 17 camp residents and 6 other witnesses to the March evictions and analyzed satellite imagery of the area recorded between February 27 and April 9. From March 4 to 7, Somalia's national police, national intelligence agency forces, and city council police forcibly evicted the thousands of internally displaced people from informal camps in the Kahda (formerly Dharkenley) district in Mogadishu. During the operation, security forces beat those resisting orders to vacate, destroyed shelters and shops with their hands and a bulldozer, and threatened displaced people.
Authorities failed to provide adequate notification and compensation to the communities facing eviction, and did not provide viable relocation or local integration options required by international law, Human Rights Watch said.
Aid organizations estimate that 1.1 million people throughout Somalia are displaced,including an estimated 370,000 in Mogadishu. Precise data is not available because the government has not officially registered displaced people. Since 2011, women, men, and children living in informal camps for the displaced have been subjected to serious abuses including rape, physical attacks, restrictions on access to humanitarian assistance, and clan-based discrimination at the hands of government forces and affiliated militia, as well as private parties.
According to the United Nations refugee agency, UNHCR, at least 25,700 people were forcibly evicted in the two months prior to the Kahda operation. However, the Kahda eviction was particularly brutal, Human Rights Watch said.
* To read more, click here.