Abahlali baseMjondolo
Movement SA. Press Statement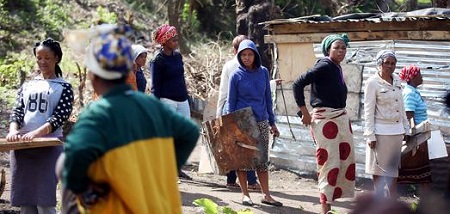 The Movement of Abahlali
baseMjondolo continues to face serious and unlawful repression by the ANC led
municipality in Durban. Right now, the community in Cato Manor right now are
trying to collect all the pieces and rebuild what is left of their lives are
after repeated violent attacks by the Anti-Land Invasion Unit. During these
attacks people have been seriously assaulted, beaten with the butts of guns and
shot, often multiple times, with rubber bullets.
Cato
Manor has now become a war zone. People's homes are on the ground. People have
serious injuries. The very government that claims to be democratic and carry
the mandate of the people is organising these brutal attacks to suppress the
struggle for land. We will hold this land just as we have held the land in all
the other occupations that have faced serious repression.
In
Marianridge, the ward councillor is intimidating and threatening members of
Abahlali. One of our members, Bongiwe Khomo, was intimidated by the ward
councillor Sifiso Ngcobo also known as 'Nadar'. He told her that if she
continues to wear the Abahlali t-shirt she will have to leave the area. He has
set a law that Abahlali t-shirts must be not be worn in the ward and in the
taxi ranks. Members of Abahlali pay extra for taxis just because they are
wearing Abahlali t-shirts. Once again, an ANC councillor thinks that they have
the right to suppress the basic democratic rights of the poor.
It
seems as though that the ANC councillors in the eThekwini municipality have not
learnt from the two ward councillor who are currently serving a life sentence
in Kokstad for murdering our comrade Thuli Ndlovu in KwaNdengezi. Our movement
does not accept repression. We always stand with our comrades.
We
will not sit and watch as people are being abused and democracy is being
vandalised. We will not sit and keep quiet as corruption is unfolding in front
of our eyes. We will not sit and keep quiet just because we are threatened by
mafias who are councillors by day. We are aware that the politics in
KwaZulu-Natal is dirty. We are aware that councillors have hit men. We are
aware that many police officers take instructions from politicians and
disregard the law.
We
will not be deterred by threats of deaths from people who are directionless. We
will continue to fight for land and democracy. We are willing to face the
barrel of the gun for justice.
Our
struggle is rooted in the occupations and the streets, but we also work to
occupy other sites of struggle too. We will be sending a strong delegation to
the Habitat International Coalition meeting in Nairobi and we will use the
platform to exert maximum international pressure against the repression that we
are facing in Durban.
Contact:
Abahlali
baseMjondolo Movement SA
Thapelo
Mohapi
Tel:
+27 (0)72 072 0686
George Bonono
Tel:
+27 (0)73 067 3274
Related
articles:
Brutal Attacks on the new Cato Manor Land Occupation
GroundUp: Durban land invasion unit accused of
trampling homes and human rights
Photo:
Shack dwellers in Cato Manor, Durban, say evictions and demolitions carried out
by the eThekwini Municipality from Saturday to Monday left many homeless and
injured. They accuse the municipal land invasion unit of brutality, theft and
acting illegally. Source: Abahlali
baseMjondolo.