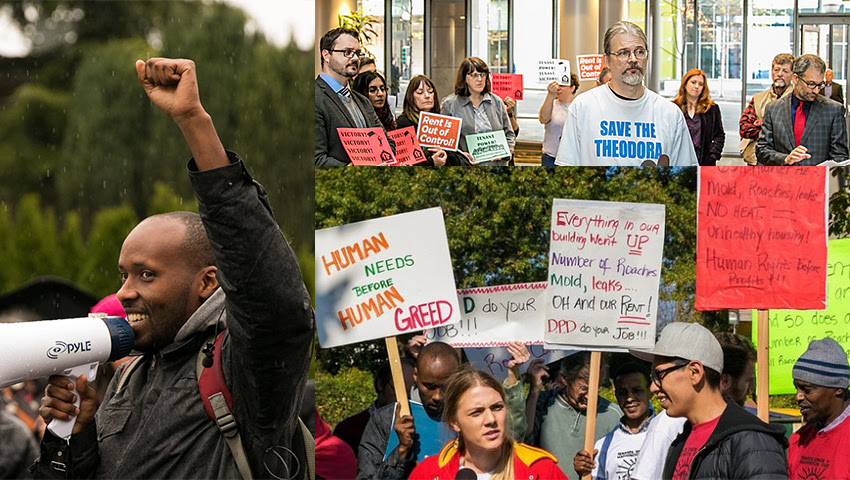 Major wins for Seattle tenants. Photos by Clay Showalter.

Major
Victories for Tenants' Rights, But It's Not Enough: voice your concerns and join the movement for more tenant protections
and services.
Help Increase Funding for Tenant Education Services. Seattle Mayor Ed
Murray's HALA committee's recommendation to increase tenant education is clear:
we need more available resources to better serve those in our communities. We are asking for your help. Please contact your
Seattle City Council member to urge them to fund more tenant education
services. This would enable us to help even more tenants, vital to our vision
of a more equitable and affordable city.
Phone numbers and email contact information: Seattle City Council
For more information about the tenant education program funding request
please visit our Tenants Union Website.
Major Victory for
Housing Affordability! On Wednesday October 28th, housing
activists from the Displaced Tenants for Accountability and Transparency
announced a MAJOR VICTORY for housing affordability in the City of Seattle;
through a landmark settlement with Triad Development 5.5 million dollars will
be put towards affordable housing projects if the proposed Civic Square project
is built. The suit challenged a land-use permit violation from Triad
Development and the City of Seattle, which offered little to no public input
for housing affordability, causing concern from those who have been displaced
by such developers. The Civic Square project at the center of this suit still
remains on hold, but no matter what is to come, there is an immediate guarantee
of $500,000.00 for affordable housing related projects.
We at the Tenants Union are proud of
the work that these tenants have done to push back and resist speculative
developers. Against all odds they demanded transparency and accountability and
won! The work of the Displaced Tenants for Accountability and Transparency
stems from their involvement with the Tenants Union and their building's
organizing efforts; they are a model of what can be accomplished when tenants
band together and fight for housing justice. If you would like more information
on how to form a tenants association in your building please get in touch with
the Tenants Union and become a member.
For more information on the story please click the link below.
Tenants settle
suit against Civic Square's would-be developer Triad
Stand Up to Slumlords. Early this fall, the YWCA's Firesteel project contacted the Tenants Union,
asking us to reach out to a group of tenants living on South Rainier. The tenants, they
said, lived in awful conditions but were still experiencing 100% rent
increases. The tenants invited us to visit their homes, and we were shocked to
see the conditions of the building in person: no heating, cockroach and rat
infestations, severe water damage, mold and moisture issues that exacerbated
tenants' asthma, and dangerously broken appliances and outlets. To further add
to their stress, the tenants were facing impending homelessness due to the huge
rent increases. We soon discovered that the property is owned by notorious
Seattle "slumlord" Carl Haglund; Haglund has for years been known to exploit
tenants across Seattle.
Despite all of these challenges, the
tenants fought back. With help from the Tenants Union, Councilmember Kshama
Sawant's office, and other community partners, the tenants organized a press conference and, later, a protest where they exposed the injustices
occurring at their building. They created the 6511 Rainier Tenants Association
and unified to create a list of demands. The fight is not over, but we have
already seen victories. The Department of Planning and Development inspected
and found 225 housing code violations that they demanded be
corrected; Haglund conceded free rent for October and half of
November; and Councilmember Sawant introduced legislation known as the "Carl Haglund Law" that would ban rent increases in
buildings that are not up to code. The tenants will continue to work to make
sure that their demands are met!
The experiences to of the 6511 Rainier Tenants Association are a
testament to the power of organizing. We encourage people across the city to
organize, fight back against abusive landlords, and demand their rights!
Join the Tenants
Union today!
The work that is done by the Tenants
Union is made possible by members throughout the state of Washington. Become a member today and join the fight
for housing justice! Other ways to stay connected include our Facebook and
Twitter accounts, so please be sure to 'follow' us, 'like' and share our
stories!