Women's Day it is a relevant opportunity to place gender as a fundamental issue that cuts across all aspects of habitat-related rights. Are you planning to organize an event, campaign or initiative on the occasion of the 8th March?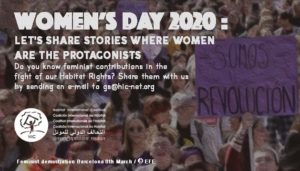 Share your Women's Day activities
If that's the case, we would love to share it with the rest of HIC Members and Allies via our communication channels; please, share your plans with the General Secretariat by sending an e-mail to gs@hic-net.org
Last year, we have a great success with this joint effort with the Global Platform for the Right to the City Gender Group, when we produced:
Do you know feminist contributions in the fight of our Habitat Rights? Share with us examples of stories where women are the protagonists!
Such stories are all around us, but they tend to have less visibility. As of March 8, 2020, we want to gather and disseminate women's stories to make their valuable work visible in the fight for habitat rights, social habitat production and social justice.
Let us make visible and accessible feminist contributions to our Habitat Rights.
Share stories with a feminist perspective. Send a video, a photo, an already published story or all of the above to gs@hic-net.org and we will add it to the stories to be published from March 8 at www.hic-net.org.
Please take into account that soon HIC-AL will launch another initiative for the region of Latin America: Proposal for mapping Gender, Feminism and Habitat experiences, an initiative from HIC-AL, Women and Habitat Network, HIC Members organizations. More info coming soon.
Through the Women's Dispossession from Land and Home project, HLRN has produced literature reviews, training materials, case studies and workshop reports of land rights violations focused on women. It is an important material to disseminate, have a look at the following link: Assessing Impacts of Women's Dispossession from Land and Home.