On the occasion of the 20 year-anniversary of the mandate of the Special Rapporteur on the right to adequate housing, the Special Rapporteur, Mr. Balakrishnan Rajagopal, invited States, national and local Governments, National Human Rights Institutions, civil society organisations, UN agencies and inter-governmental entities, and others, to share their views on the achievements of the mandate since its establishment and on future challenges.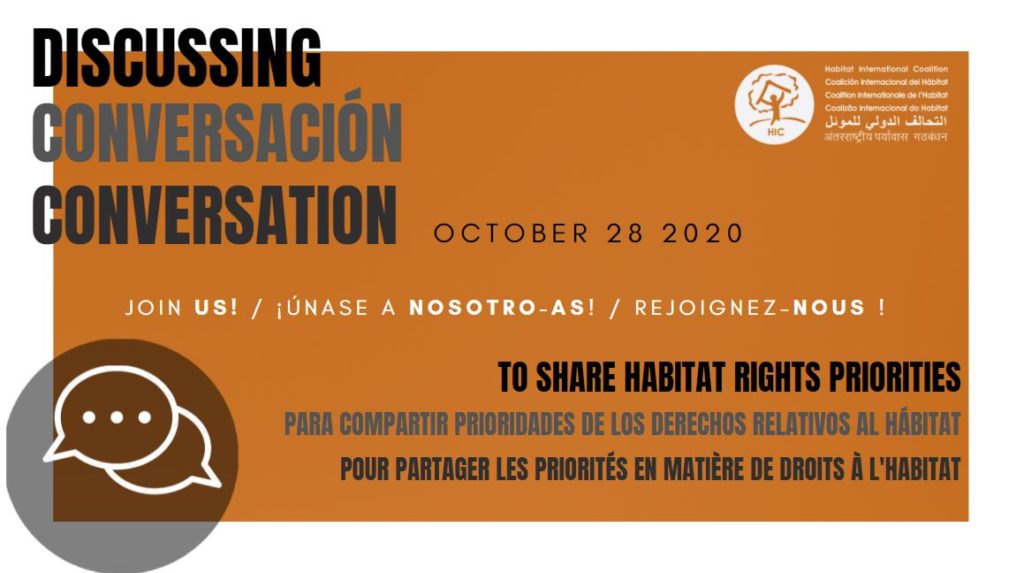 HIC organized a meeting with its Members, Friends and Allies to collect the main contributions to be jointly presented to the Rapporteur.
The meeting gathered many different voices and inputs to feed the thematic report to be submitted in March 2021. The discussion focussed on 2 questions : 
What are the issues that are your priorities for the mandate to focus on: challenges on development?

How will we engage with the mandate, what mechanisms are working well or less well in the UN system?
The gathering highlighted the many memories and long history of HIC with the UN and the SRAHs, including a crucial conversation with the 4 Special Rapporteurs on Adequate Housing who have held office over the last 20 years (A meeting recently organised by HLRN India).
Housing financialization is one of the key issues, as evictions are massive challenges. As a result of Covid we have seen a battery of measures that have been undertaken. How do we sustain these measures in different regions? Another issue is land grabbing, housing and land violations, the sustained dismantling of the welfare state has been underlined by previous Special Rapporteur Raquel Rolnik. The current SRAH highlights and gives priority to the situation of unhoused citizens. We know about especially vulnerable groups, including women tenants.

The organizations highlighted the need of SRAHs to be seen as civil society, not as the UN. All of SRAHs have been significant, and the UN is going through a crisis, but there are opportunities to make changes currently. A vital moment right now.