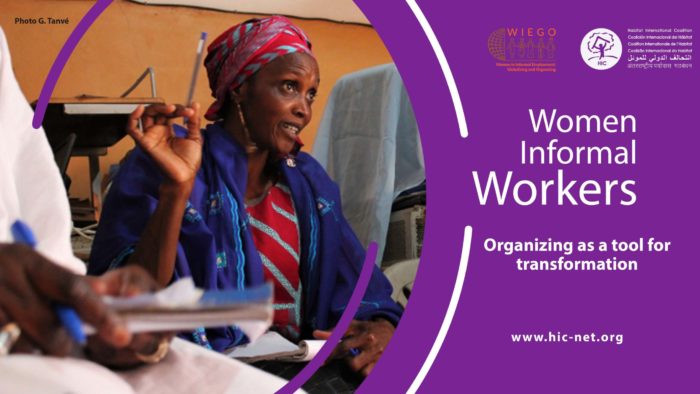 Creating spaces for fostering greater gender awareness among workers
Women continue to face economic and social inequities worldwide. Informal women workers have decided that they can improve their position if they join hands with other women and organize to acquire new skills and assert their leadership.
Coura Ndiaye and Tenning "Ndella" Faye are the example of creating spaces for fostering greater gender awareness among workers. Both are informal workers from Dakar in their 60s, grandmothers, but also leaders within their membership-based organizations. Their advanced age brings the strength and wisdom that comes with experience — two assets they exemplify daily as they step out in front to better the lives of those around them.
In Dakar, Senegal, as in other contexts, solidarity is the key. For Coura Ndiaye and Tenning "Ndella" community support, including from their families and from other women workers, has been a key underlying force in their fight for women, children and informal workers' rights.
Helping to strength women's worker identity
Membership-based organizations of informal workers are helping to build up the strength of individuals through connection to a common worker identity. They are addressing the challenges they face in their work and in their communities by linking up with local allied organizations, including WIEGO's Dakar Focal Cities initiative, to gain much-needed leadership training and to strengthen their collective voice.
Ndella at the head of a women's cooperative that struggles to improve women income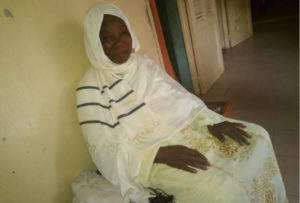 Tenning "Ndella" Faye, 63, lives on the outskirts of Dakar. She helps support her eleven children and ten grandchildren as a grain processor. But Ndella is also president of CAFEM-SD ex-AVER-B (Association des vendeueses de rue de la Banlieu or Association of Women Street Vendors on the Periphery), a women's cooperative that brings together several organizations of street vendors, domestic workers, waste pickers and women who transform local produce into marketable products (for example, turning fruits into marmalades, or processing raw grains into cereal products).
AVER-B was formed because women in Ndella's area were struggling to improve their incomes and support their families, and they realized they would be stronger together. Members have called for help with myriad challenges, including the need for technical training to improve their production techniques, marketing skills to better promote their food products, and administrative and financial training to manage credit and earnings.
As AVER-B's coordinator:
Ndella has led the charge to gain access to the much-needed resources for her fellow workers;
She has worked with the women of AVER-B to develop innovative methods of financing, rooted in values of self-determination and solidarity;
She has also worked with WIEGO to organize trainings on cooperative management and collective bargaining for the women of AVER-B
"Training, information and commitment are the three important levers for progress in professional, social, economic and political life" says Ndella.
Improving the lives of women at the dump through Membership-based organizations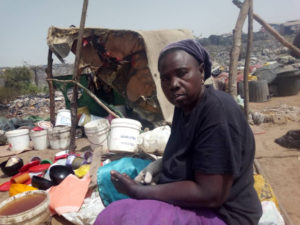 Coura Ndiaye, a 66-year-old widow and mother, is a waste picker at Dakar's Mbeubeuss dump, the only landfill serving the entire city of Dakar. Surrounded daily by the 460,000 tonnes of trash that gets hauled there annually, Ndiaye gets to work. She has been working as a waste picker for more than 40 years.
Despite her exhausting work and domestic responsibilities, Ndiaye spends many extra hours trying to improve the lives of women at the dump through her Membership-based organizations , Bokk Diom, which means "united people with a common vision". Ndiaye is the only woman represented in Bokk Diom's leadership body.
The cooperative was formed in 1994 by waste pickers at Mbeubeuss, of which 60 per cent are women, to defend their rights. They currently have a community centre, which houses a clinic with a doctor, pharmacist and two nurses on site, as well as a training centre for young people who want to become waste pickers. Bokk Diom also worked with the municipality to start a school on site for children of waste pickers.
Ndiaye was elected as president of Bokk Diom's newly formed Women's Recycling Committee, which aims to bring visibility to the unique issues that women waste pickers face at Mbeubeuss. The committee also is working to increase women's participation and representation within the MBO. She says support from WIEGO's Focal City Dakar initiative to get the Women's Committee going has brought a "new lease on life".
For Ndiaye, gaining her important leadership position on the committee was a long time in the making. Over the years, she has been involved in various women's groups, and learned a lot from the process of organizing Mbeubeuss's waste pickers. Importantly, she participated in training courses provided by WIEGO, in partnership with Bokk Diom, that focused on developing leadership and business skills, legal know-how, and administration and financial management. Ndiaye sees her leadership position as an opportunity to address myriad women's needs in her country, including improving access to finance and bettering incomes.
This article is part of WIEGO's month-long series for Women's Day 2019. Read the opening article here.
Let's build together a wave of recognition!
The list of women who, from the history and present of our Coalition, have and continue to struggle to make visible the role, experiences and rights of women and girls to be respected is long. The intention of this initiative is to publicly disseminate, recognize and value their work.
Help us to know your experience or that of other women so that those values reach more people!
Use this template to share with us stories of social justice and habitat rights in which women are the protagonists.
Share this message in social networks